Yesterday when we re-launched our the Pro Paintball 2011 Event Calendar we broke the rumor that the PSP was hosting the season opener in either Phoenix, AZ, or Galveston, TX on March 11th-13th. While we expect the official PSP 2011 schedule to be released shortly, information is beginning to surface on likely event locations.
Update at 10:00pst: Its official! The PSP has confirmed event 1 will be in Galveston, TX and has published the official release on their website. H/t to Alfred from LIFT for the heads up.
Mr. H, a propaintball reader, did a bit of research and not only located the potential field, Island Paintball, but also linked the fields website, which upon further review, has an image welcoming the PSP Event #1 to its paintball park.
As if to further confirm the news, Island Paintball Park's facebook fan page has a conversation between the park owner and local paintball players discussing PSP Chief Operating Officer, Lane Wright, flying to the field to review the facilities. Click the screenshot below for a larger view;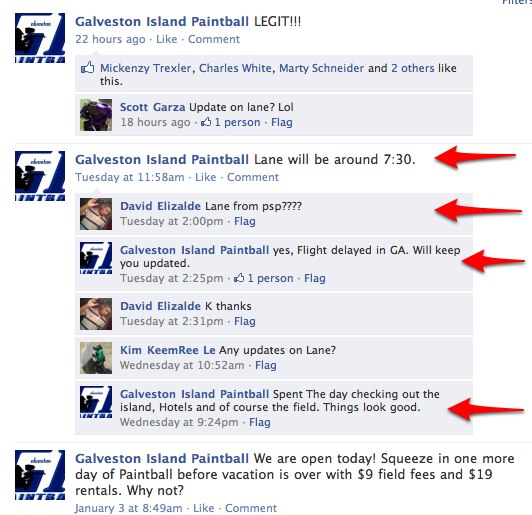 All rumors and information point to the PSP season opener taking place in Galveston, TX at Island Paintball on March 11th-13th, 2011. As always, wait for the official news prior to purchasing airline tickets or booking rooms.