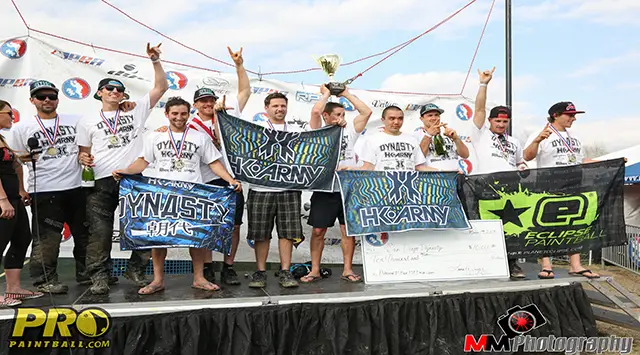 The 2013 PSP Dallas event is officially in the books. Plenty of intense action went down over the four day affair–rarely was there a dull moment to be had on the webcast. Major props due to the PSP for producing a quality season opener, and PBA for offering the live stream so the whole world could witness paintball-done-right. Hope all of you tuned in through PROpaintball.com's rebroadcast, and enjoyed the real-time dialogue in our Smackbox. Here are the complete podium results for each division. Look below for a gallery of winners cheesin' with their hardware. This gallery is incomplete, and will be updated throughout the day as our hardworking photographers re-assimilate back into "real life". Stay tuned this week for full on-field galleries of Pro and Divisional play.
Professional

1st San Diego Dynasty

2nd Tampa Bay Damage

3rd L.A. Infamous

Division 1

1st Sacramento DMG

2nd Boom

3rd Wolfpack

Division 2

1st ac402.com

2nd Prime

3rd VCK 2

Division 3 RaceTo4

1st Syndicate

2nd Dallas Jets

3rd DSS P8ntball.com

Division 4 RaceTo-4

1st CFP Static

2nd Houston Zone

3rd Tampa Bay Notorious

Division 3 RaceTo-2

1st 406?s Finest

2nd Dallas Ducks

3rd SA Free Ballers

Division 4 RaceTo-2

1st North TX Shockwave Black

2nd Royal Flush

3rd Asylum 408

Pump

1st Rockin Cocks

2nd Asylum True Ballers

3rd Protagonist

10-man

1st PPS SFO

2nd Tour de Force
If a shot of your team made it to the Gallery, make sure to "Like" and "Share" it through our social media box. Congrats from all of us at PROpaintball.com!