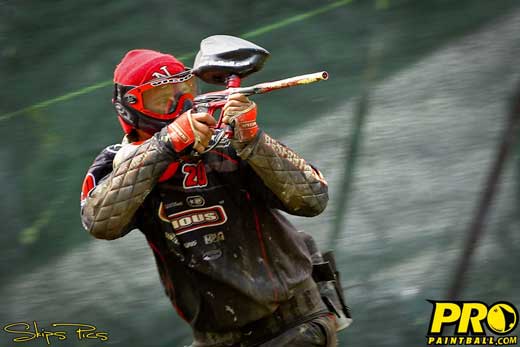 The PSP World Cup is set to begin in less than 7 days. Are you and your paintball team ready to compete? Read on for the latest paintball news and gossip regarding several top teams as they prepare for the 2011 PSP World Cup Championship.
According to ProPaintball insiders, Billy Wing of the LA Ironmen is rumored to be retiring from competitive paintball after the 2011 PSP World Cup. He has played professional paintball for the last 14 years. The LA Ironmen were his one and only pro team. Wing is a very dedicated Ironmen player and long time employee at DYE Precision and we can only imagine his departure will have a major impact. Want to know more? Check out ProPaintball's interview with Billy Wing.
Chad "Ya-Ya" Bouchez (former Aftershock) was rumored to be playing with Omaha Vicious. ProPaintball insiders suggest that there was a conflict in the deal and it wasn't completed in time for the event. Bummer.
Marcello Margott tore his meniscus and had torn cartilage. Marcello underwent a micro fracture surgery which requires him to stay off the injury for about 6 weeks (no weight bearing). Unfortunately he will be sitting out PSP World Cup. Marcello has to go through physical therapy and should return prior to the start of the 2012 season.
Thomas Taylor from Sacramento XSV is playing with LIFT.
Division 1 team Assault surprised everyone by pulling out of PSP World Cup. Team owner TeddyG has been responding to questions in the ProPaintball Smackbox over the last 24 hours. In short, the team was just not ready to compete and Teddy did not feel comfortable fielding an unprepared squad.
Darryl Trent is preparing to unveil the DLX Luxe 2.0 paintball gun at PSP World Cup. Here is a sneak peak of the new paintball gun from DLX.
DSSP8NTBALL.com is bringing back their divisional feeder team for 2012. Stay tuned for tryout information.
Guerrilla Air is giving away free paintballs. The odds that you win are 1 in 200.
Portland Uprising is rumored to have picked up 2 local players for their 2011 PSP World Cup debut. ProPaintball insiders suggest the team is trying to get their feet wet, learn the format and figure out what they need to fix in anticipation of the 2012 paintball season. Good luck Uprising!
Pro Paintball fans have been inquiring as to what Cole Scott is doing for PSP World Cup. In case your wondering, Cole Scott plays with Portland Uprising in NPPL 7-man and Impact in the PSP. ProPaintball caught up with Cole who mentioned that prior to the 2011 season begining, he signed up to play with Edmonton Impact in PSP and Portland Uprising in NPPL 7-man. Cole will be playing with Edmonton Impact at Cup but mentioned he and a few of the guys are going to try and help coach the new Uprising team through the first event. Talk about camaraderie!
What else have you heard? Share your paintball news and rumors in the comments below.