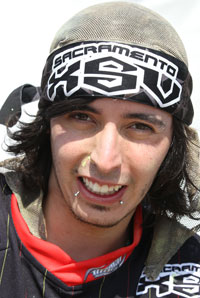 Over the last few seasons XSV has gone through some rough times. Rick Telford has been hard at work adding some veterans to the roster as well as some young kids new to the pro paintball ranks. Eddie Tomao is one of those new players. Eddie is VERY dedicated to becoming a top pro player and taking part in bringing XSV back to the top. At the Chicago NPPL event in May, Eddie helped XSV make the finals for the first time in the pro division since 2008.
Name: Eddie Tomao
Age: 21
Hometown: Motown baby!
Occupation: Paintball Store and Tattoo Shop Manager and Juniors personal assistant
Previous Teams: Rodents, Fuzion, San Francisco Explicit, OG Twisted Kids, Bad Karma, Alienpb.com, Nor Cal Kids, and a bunch of throw
Current Team: Sacramento XSV
Sponsors: Alien Paintball, Empire Paintball, RPS Paintballs, Ninja Paintball, Understood, Sly Paintball, Paintball X3, Techpb.com, Animal Paintball, Ballerscafe.com, RPL, and Paintballphotography.com
Position: Wherever Rich tells me to go which is usually up the gut or corner.
Favorite Pro Players: Bobby Aviles and Tyler Harmon because of their swag.
When you are not on the field what can we find you doing?
Working at the paintball store, hanging out at the tattoo shop, or watching horror movies.
When did you start playing paintball?
about 8 years ago, when autocockers were the shit.
Who do you look up to on the paintball field?
Rich Telford for his leadership and knowledge. Tyler Harmon for his sneakiness and gun fighting skills.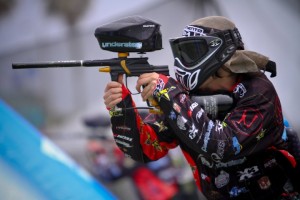 Paintball has helped shape many of our lives, how it shaped yours?
All my best friends are from paintball. I have met so many people from all across the states that have become like brothers to me.
What is your fondest memory of paintball?
Making XSV and being able to TKin Thomas every chance i get.
What are your personal goals for the 2010 season?
Get a 1st by the end of the season and become a respected pro paintball player.
Do you have any advice for the new up and coming players?
Play against people who are better than you and don't be afraid to ask your local pros for help. Also support your local fields and stores. If you help them they will help you.
If you were trapped on a deserted island with XSV, who would you eat first?
I would eat Conrad because he's not the brightest so it would be easy to catch him.
I wanna give a shout out to my parents and D-Wizz Parsons because without them I wouldn't be where I am in paintball. Wolfpack for Life!! Check out
xsvpaintball.com
for all the updates on the team!!