The Pro Paintball Millennium Event #1 in Malaga, Spain is off to a rough start. Iceland has managed to allow their volcanoes to erupt for the second time in less than a month, and over 17,000 flights have been cancelled throughout northern Europe! The paintball gods might not be favoring those of us who decided to travel just a flight too late, though this no doubt will make for a very interesting event.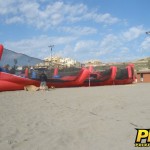 Last year many of you recall the Malaga event turned out to be a good time for consumption as the weather seemed to destroy any and everything in its path. This year proves no different: buckets of rain, high winds, oh and plumes of Volcanic ash, no biggy! Pro paintball player Oliver Lang gave us a shout earlier this morning to share that the rain has yet to cease, with no apparent end in sight.
However combative mother nature is though, the event is still up and running, with flood lights en route so the games today can carry on until 11:30PM tonight. Unfortunately, with the cancellations of several flights, the Budapest Bullets vs London Nexus match has been called off due to Nexus currently being stuck in an airport in London. For the North American team Dynasty/Impact (Dynapact) who did make it to Malaga, match 1 vs. Joy Division was taken by storm in a 5-1 victory, joining both Icon and SK Moscow who have also won their opening games.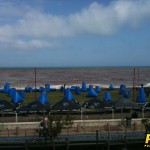 Many North American pro paintball players have successfully made the trek east to partake in one of the worlds only events that rivals the NPPL Huntington Beach. ProPaintball's Davey Williamson, Chad George & Glenn Takemoto are playing with the Greek team Dogs D Amour Thessalonik. Billy Bernacchia is playing alongside the Copenhagen Ducks while Grayson Goff and Mykel Kovar of San Antonio X-Factor are playing with Breakout Spa of Belgium.
Tim Montressor, Jason "FK" Edwards, Drew "Drewbietron" Templeton, Brandon "BShort" Short, Alex "Arod" Savino & Marcello Margott are all in Spain playing as well. Marcello's bags were reported lost at the airport somewhere in travel (Bummer! We've all been on that boat!). And Sadly, Alex Savino's team is stuck at one of the no-fly airports so they're currently playing 2 on 5! ProPaintball's Tyler Harmon who was planning on playing with Joy Division is another among many others who did not make it to the event.
Russian Legion players Mishka Kniazev & Kirill Prihidni are playing for Art Chaos Moscow while Maloy Berdnikov & Konstantin Fedorov are playing for SK Moscow and Justin Rabackoff is playing with Frankfurt Syndicate.
Shout out to the guys over at Planet Eclipse, Oliver Lang, and Nima Razavi for all having contributed to this paintball news update!
For those of you using Twitter check out @propaintballcom, @nimiaa, @olliewang & @planeteclipse