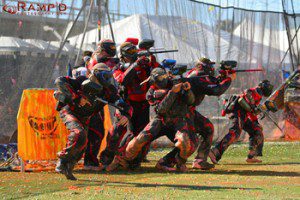 Its only 2 weeks before the Phoenix season opener and several teams are rumored to be trying their hands at some last minute manuevering.
Credible sources report that Sacramento XSV an DC Arsenal are practicing X-ball this weekend. As we reported earlier, both Arsenal and XSV had been offered Pro franchises in the PSP Pro division but had reportedly turned them down to focus on the USPL. Doesn't make sense to be shooting paint to practice a league they are not going to compete in..or will they? Check back for the Monday report!
Jersey Authority is rumored to be taking the season off. Sources have informed us that the sponsorships didn't justify the expenditures. Rumor has it KEE offered Ron Butler a whopping 250 cases of paint for the season. According to USPL press releases, Jersey Authority was not on the list for the new 7-man format and 250 cases isn't anywhere near whats neccessary to compete in Pro X-ball. The team was composed of members from several organizations and we can expect the athletes to return to their parent franchises. As far as where Bart Blonski and Alex Lundquist will end up, we have no idea. Bart was recently cut from the Russian Legion and Jersey Authority was Alex's home team.
Word has that the Draxxus sponsored teams are still trying to figure out where they stand in terms of practice paint for the 09 season. Word has it that Pro Caps, like every other company our the industry, was busy restructuring operations during the off season. For most teams the season begins in less than 2 weeks and we can only hope they get a move on things.