Tom Fore and his pro paintball team DC Arsenal were leading the pro 7-man series in 2009 and for all intents and purposes, disappeared for the first half of 2010. Rumors during the off season had placed Arsenal in the PSP, back in the NPPL, disbanded, restructuring, you name it.
With that in mind, we are proud to share an exclusive statement from Tom Fore on DC Arsenal's return to pro paintball.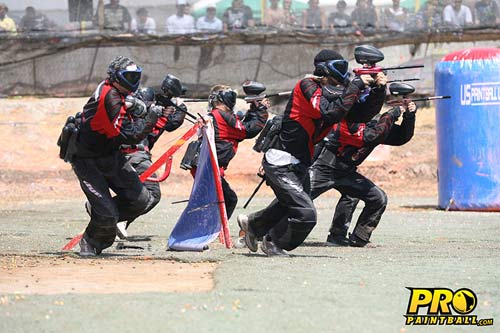 "DC ARSENAL will be playing DC challenge, Vegas and will be committed to 7 MAN for 2011. I have taken the time off to work and spend time with my son. I want to thank all of my friends and team members who have been loyal to the program. I regret that we had to take the first two events off. Arsenal intends to remain a force and will be practicing at PEVS and OA Chesapeake City.

T4"
In addition, there is a rumor that DC Arsenal will be competing at PSP Chicago Open later this month. We expect DC Arsenal to remain a DYE and Bob Long sponsored team and provided they are able to keep the same players together, return as a top contender in the 7-man pro series.