For those of you just tuning in, be sure to check out Part 1 of our Post Practice Report. As promised, we are proud to present the second installment of our [ PPR ] for the weekend of June 13th and 14th. Read on below as we showcase the practices between Damage vs. the Russians, Aftermath vs. the Ironmen, Aftershock vs. Mutiny and Scottsdale Elevation.
Tampa Bay Damage played against the Russian Legion this weekend at Central Florida Paintball park. On the field reports informed us that the practice was straight up and very productive. Chad Busiere & Dan Holiday from Tampa Bay Damage both suffered minor shoulder injuries which should not effect Chicago but may keep one or both out of next week's practice. Saturday's games included the RNT Allstarz and all in all the teams seemed to be pretty evenly matched up. Photo by SOFLAMAFIA.com
In order to beat the heat, Scottsdale Elevation got off to an early start (7:00am!) at 23bps in Avondale and competed against local Arizona teams throughout the day including Retribution, FYT, and Biohazard. Elevation spent the day ironing out there roster and making adjustments for the USPL West Coast Open.
San Diego Aftermath and the Los Angeles Ironmen squared off at Velocity Paintball Park for round 2 of their 2 weekend series. Aftermath appeared to be leading in the way of points throughout the weekend. Marcello Margot and Alex Goldman from Aftermath pushed down the dorrito side game after game to feast on the Ironmen. Missing in action from the Ironmen side was both Mikko Huttunen and Scott Kemp, Mikko was in Brazil doing a clinic and Skemp was at a wedding. Billy Wing from the Ironmen swapped out with Brandon Short and spent Sunday getting dirty playing #1 in the snake. Those guys are definitely changing it up and trying new things. Photo Credit: Matt Dawson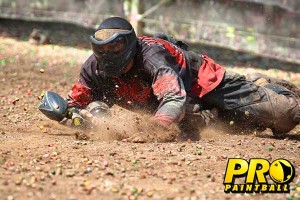 Last but not least, Chicago Aftershock faced off against Indianapolis Mutiny at Badlandz this weekend. Chicago Aftershock is one of the founding NXL franchises and they have a long history dominating in the Pro leagues. Considering Mutiny is a new 7-man team built of former Shock and Avalanche players (with Xball experience), we were a bit surprised to hear that Aftershock outplayed the Mutiny guys point after point. Spectators noted that the Mutiny team had alot of heart and the guys tried to answer Shocks aggressive game plays but ultimately their opponents experience and depth of roster won out. On a side note, its great to see that Mutiny is crossing over between the leagues and playing as much paintball as possible — we hope to see the Mutiny guys stick it out with the PSP and play on to World Cup. The team is young and shows alot of potential, they just need the time and the practice to tighten their play up and fine tune the game plans.
That about sums it up for our Post-Practice Report Week 2, Part 2.  We hope you enjoyed our report and we look forward to your feedback in the comments below. Thanks for reading!