Planet Eclipse has released 6 generations of the Ego line of paintball markers. With all the excess weight cut from the paintball gun (it weights a measly 1.98 lbs including barrel), the company has turned their attention towards increasing efficiency and the guns ability to shoot brittle paint.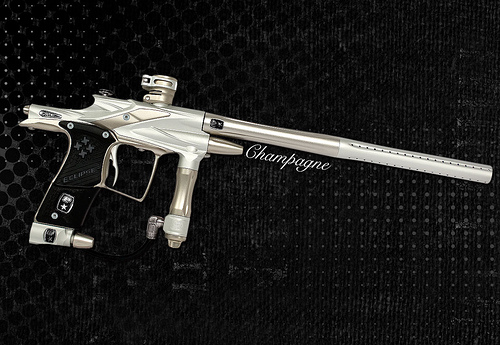 Update: Check out the Techroom video of the Planet Eclipse Ego 10 paintball gun with Jack Wood and several pro paintball players.

Mechanically the Ego10 incorporates some of the technology of last season's SL94. The Zick2, which is an intrinsic part of the pneumatic drive system, is designed to both have a softer initial kick-off on the forward stroke, which helps load the ball more gently and helps minimize bolt-strike breakage of the paintball, but also cushion the system on the return stroke into its rear-stop position. Both these attributes are key to helping achieve the fundamental goals of the Ego10.

Sitting above the Zick2 kit there is now a body-cut contoured Cure3+ bolt. The main body of the bolt carries the same upper profiling and cupping as the standard Cure3 bolt, which massively reduces both bolt-strike impact on the ball being fired, but also ensures that the bolts leading upper edge has the least amount of impact possible on the second ball in the stack. Impact fractures from the bolt on the second ball are common place when using force-feed loaders, and the Cure3 ensures those fractures are kept to an absolute minimum. But what is new on the Cure3+ bolt is a new 2-piece design. The new second piece sits inside the main body, is held in place with the bolt pin, and is removable and interchangeable without the need of any tools. The standard Cure3+ found in the Ego10 comes with a ramped insert that gives the air path from the valve to the face of the bolt a nice smooth transition through its 90 degree turn. But the real beauty of the design means that the insert can be quickly and easily removed and replaced for any future upgrades that may be developed for this bolt design.