Last week Youtube introduced support for 3 dimensional videos. Paintball videographer Cassidy Sanders of PBfashion decided to take advantage of the new support and release the first 3-d pro paintball footage.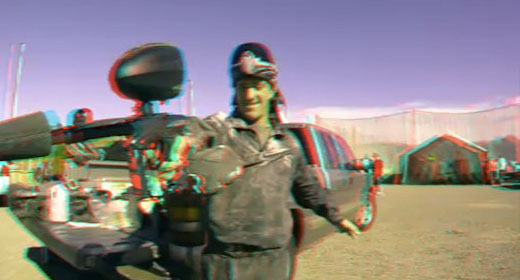 Per Cassidy:
Paintball in 3D on Youtube ! We were out trying out some new gear doing some drills, and playing paintball…so we decided to be the first to film some paintball in 3D!

To view in 3D we recommend red/cyan cheap paper glasses but youtube 3D drop down menu lets you choose from different glasses, or even a non glasses "cross eye style". Movie Theater 3D glasses do not work on youtube yet, but some 3D tv's will work with proper glasses if you set the video on side-by-side mode! Watch in HD & Fullscreen for good 3D!

Filmed & Edited by Cassidy Sanders
Music: Drivepilot – Every Day
Update: Whoops–apparently Youtube's 3d menu options won't display when videos are embeded. In order to view the video in 3D you will have to visit Youtube's Paintball in 3d page.