Meat what? The Meat Hammers you say? And they are making a come back? Whats going on now?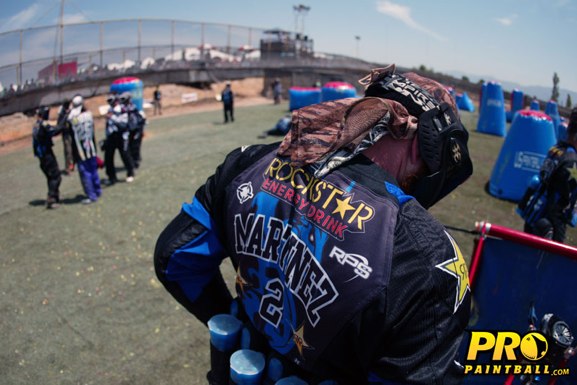 The internet is full of buzz with the entry of the Meat Hammers in the 2011 NPPL Las Vegas Championships. ProPaintball insiders tipped us off at Cup that a huge come back featuring the "whos-who" of retired paintball players will be making their way onto the field next weekend. We heard that Todd Martinez was involved in spear heading the effort and caught up with him for the official scoop.
Word started going around that there was a possible league merger in the mix and perhaps the last 7 man after NPPL Las Vegas. The idea randomly got tossed around about how much fun it would be to put a throw together team in with a bunch of guys that dont play paintball anymore just to go have a good time in Vegas. Davey Williamson, the new west coast sales rep for Valken, proposed the idea to the company and they were gracious enough to give their full support to the team.

A few years back when pro players from Dynasty, XSV, and the Ironmen all lived in San Diego, we had a wednesday night softball team called the Meat Hammers. We had to be one of the worst softball teams to ever step on the diamond, but definitely had more fun than anyone could imagine. Every week was a different excitement. It was literally like playing for the bad news bears. So in the spirit of good times and good friends, the Meat Hammers are going to come have some fun and cause some ruckus in Las Vegas. Few of the players have even played paintball in a couple years since retirement and a no practice rule has been instated. We come to have a good time together and bring some excitement to the teams in division one.

Big thanks to Valken for making this all happen for us. Get your official Meat Hammers jerseys at RAZAlife.com, and Meat Hammer HPA tanks by Crossfire.

Our roster is as follows. Batting first…

Brian Cole
Matty Marshall
Opie Loughran
Johnny Perchak
Angel Fragoza
Todd Martinez
Adam Johnson
Alex Savino

Might bring in a center fielder and a clean-up hitter.
What are your thoughts on the Meat Hammers roster? How will the team do in division 1 against the likes of Impact Echo and Dynasty 2?
Share your thoughts in the comments below!
Ed note: Special thanks to RazaLife for helping put this story together.