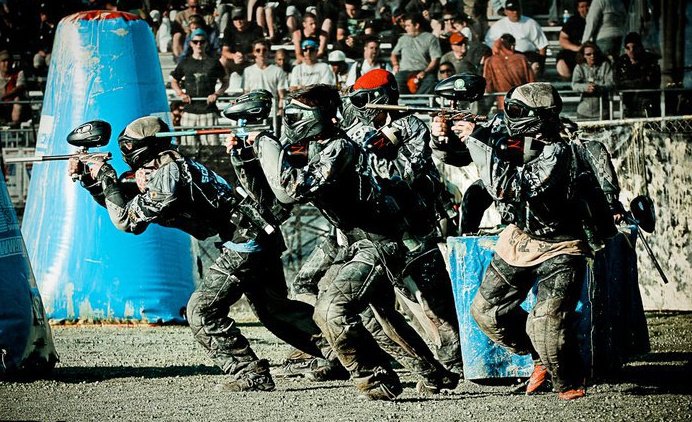 This week's ProPaintball Team of the Week is Impact Echo. Impact Echo has been a part of the Edmonton Impact paintball program for several years now, starting in division 3 and rising through the NPPL ranks. Impact Echo recently won in NPPL DC, taking first place in Division 1. I caught up with Jonny Danger from Impact Echo today to ask him a few questions about their recent trip to Pev's for the NPPL DC event. I've had the pleasure of playing alongside these guys since I started playing tournament paintball in 2008, and it's been awesome to see them come up through the ranks. From winning the NPPL D3 series title in 2009, the D2 title in 2010 and well on their way to a possible D1 series title in 2011, Impact Echo is a prime example of how a good bunch of guys becomes a great team.
JJ @ ProPB: How did you guys to in DC?
Jonny @ Impact Echo: After some hard fought battles, we broke our curse of thirds and finally picked up the first place prize!
JJ @ ProPB: How does it feel?
Jonny @ Impact Echo: Words can't explain how it feels to finally win an event this season, after coming off some strong practices with local teams, it's nice to have achieved the goal we set out to accomplish.
JJ @ ProPB: What was the mindset of the team going into the DC event?
Jonny @ Impact Echo: We picked up a new player to round out our roster and we felt that now we were solid in all aspects of our team. We knew all we had to do was play the way we practice and no one could stop us.
JJ @ ProPB: What was working well for you guys down there?
Jonny @ Impact Echo: We found that even if we were down bodies you could live for a long time even if they were all across the center line. So it just became who could play the calm, patient game, and as Bart Yachimec has taught us over the years, we did just that.
JJ @ ProPB: What wasn't working as well as you wanted?
Jonny @ Impact Echo: We didn't really have too many issues, the layout was perfect for an all attack team like ours, the hardest part was our front guys getting shot off break and having to push out through some pretty big lanes.
JJ @ ProPB: What adjustments do you think you need to make before Vegas?
Jonny @ Impact Echo: We are going to play the layout a few times, adjust guys to fit. Our whole team can play any position we need, so other than finding the right fit for each of us, we shouldn't need to do too much. Maybe a little practice with Edmonton Impact, but hey, that's always on the agenda right?
JJ @ ProPB: What teams in D1 were giving you the most problems? What were they doing that was working for them?
Jonny @ Impact Echo: We had some issues with propaintball.com getting into the car wash against us. We found that we were focused on getting our guys up field, and not preventing the same movements. Eventually we found the right lanes to stop that.
JJ @ ProPB: Anything going on in the Impact Echo camp that you want our readers to know about?
Jonny @ Impact Echo: Well, as is usual the team is heading to one of our families houses for a yearly team dinner, this year is Canadian New Years turkey feaster. Like most teams, we are all friends away from the events as well, we hang out regularly and like to make the best of the off field time as well as the on field.
JJ @ ProPB: Anything you want to add? Any shout-out's?
Jonny @ Impact Echo: Well after a big win like we had in DC, we need to thank all of our sponsors of course, Go Paintball.ca, Draxxus, Planet Eclipse, Ninja, and of course Bart Yachimec for his coaching as well as his help in getting us to events and looking after us while we are there. Without Bart, I know it would make it a lot more difficult for us to play as well. Also of course to our local practice teams like High Octane, they take their beatings and keep us pushing ourselves as well.
Thanks Jonny. See you at practice!
-JJ Roth