ProPaintball is proud to unveil the 2011 DC Arsenal pro jerseys and latest news and rumors on the pro paintball team.
New Paintball Jersey for Arsenal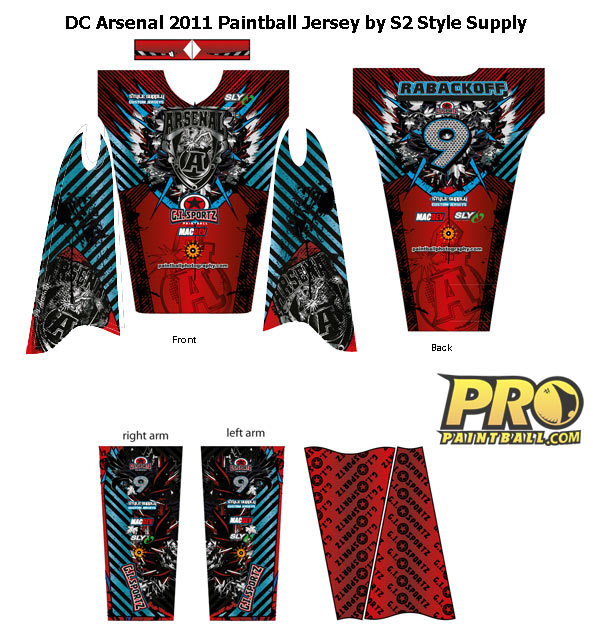 Designed by Eric Prum and Style Supply, the new Arsenal jerseys features a unique design and the logos of team sponsors GI Sports, Sly Equipment, MacDev, and PaintballPhotography.com.
Latest DC Arsenal Paintball News
DC Arsenal made two last minute adjustments to the pro paintball teams roster prior to this weekends NPPL 2011 Chicago Open paintball tournament. Dorrito player Justin Schwarz has left the team and former Arsenal player Steven Pitts will be taking his place. According to sources, Schwarz is playing with Frank Connell and St. Louis Avalanche for the Chicago Open. ProPaintball insiders suggest there a high likelihood that Justin will be returning to Infamous for the remainder of the season.
Steven Pitts most recently played with pro paintball with San Diego Aftermath. Aftermath retired at the end of the 2010 season and several of his former teammates joined Dynasty. Accourding to sources familiar with the matter, Dynasty offered Pitts a spot on the teams 2011 roster. Instead, Pitts decided instead to refocus his energy on completing his college degree prior to returning to the pro field. When talking to ProPaintball, Pitts mentioned that he planned to take off the 2011 paintball season and only played with Hollywood HK because he couldn't afford to miss NPPL Huntington Beach. A member of DC Arsenal who wished to remain anonymous informed ProPaintball that Arsenal offered Steven Pitts a deal and practice/event schedule that he could not refuse.
Arsenal has a very solid roster and it will be interesting to watch them progress throughout the NPPL 2011 Super-7 series. Be sure to stay tuned for the latest paintball gear, news and rumors on ProPaintball.com.