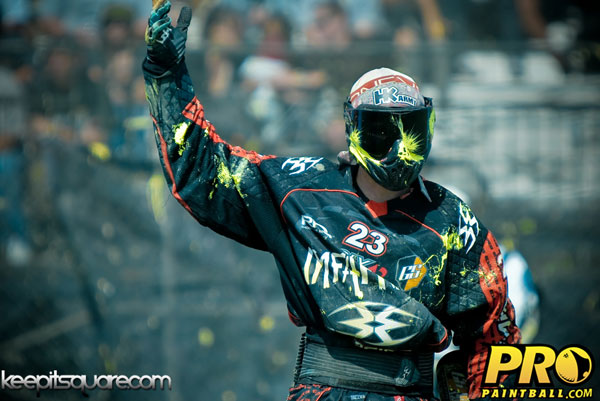 This week's paintball news and rumor report features the latest news and gossip on DYE Snow, Seattle Thunder, DC Arsenal, San Francisco Explicit, Chattanooga CEP, Tampa Bay Damage and Hollywood HK.
Mikko Huttunen from the Los Angeles Ironmen will be missing the PSP season opener. ProPaintball insiders suggest he will be unveiling the DYE SNOW brand at a major snowboard event that same weekend.
Seattle Thunder gets sponsored by Critical Paintball. They will be using the Critical 100 gram barrel on their Alien paintball guns and Critical Stealth packs to carry their paint.
Damian Ryan is playing with TKO at PSP Galveston. After the event Damian is said to be joining Chattanooga CEP for the remainder of the PSP pro paintball circuit.
San Francisco Explicit has picked up Sacramento XSV's Patrick Slattery and will be continuing with the same roster of guys from NPPL Vegas.
Pro Paintball insiders indicate that Tampa Bay Damage has picked up Tyler Harmon (BLAST) and Dave Baines (DC Arsenal) for PSP Galveston.
Several players from LA Infamous will be playing 7-man paintball with other teams. Bobby Aviles is said to be playing with Chicago Legend. Zack Wake, Kali Rudolph and Justin Schwarz will be playing with the newly minted DC Arsenal. With that in mind the team only has 6 infamous players for the NPPL 7-man pro paintball series. According to Pro Paintball insiders, Chris Lasoya will be playing with Los Angeles Infamous at the NPPL Surf City Open and filling in the 7th spot.
Chris DeSignor who retired from professional paintball is said to be shining his shoes and returning to the paintball field with DC Arsenal for 2011.
Steven Pitts, Paul Katic, Heath Hoeper and a few other players are said to be playing with Hollywood HK at Huntington Beach Open.
Critical Wrecking Crew was picked up by Empire Paintball. CWC will be shooting the Empire AXE, wearing head to toe Empire paintball gear and shooting RPS paintballs. The team has picked up 3 players from Rockstar Factory: Travis Carl, KM, and Edwin Dolgopyat and will be bumping up to Division 1.