Ed Note: For the sake of transparency, ProPaintball Writer JJ Roth co-owns and plays for pro team Seattle Thunder. Audrey Whiddon, owner of Diamond Hill Paintball Park is a co-owner of Thunder. While the two have a relationship, we felt that a shout out to Audrey and her work was worthy of mention. ProPaintball received no financial compensation for publishing this article.
Paintball Industry Spotlight – Audrey Whiddon
There's a few people in paintball that really stand out as being exceptional individuals, and having nothing but a good impact on the future of the sport. Even though she doesn't actually play, I really felt like I owed it to Audrey Whiddon, owner of both Diamond Hill Paintball in Harrisburg, Oregon and the Seattle Thunder Pro NPPL franchise to shed some light on how she has impacted paintball in the Pacific Northwest region. Her field, has grown from a dusty dream into the premiere tournament field in Oregon. With the addition of a rec field that is expanding all the time and future plans for another tournament field, DHP has something for everyone. Every weekend you'll find a mix of beginner, 3man, 5man, pump and divisional teams mixing it up as well as getting time to play against the Shameless, Uprising and Thunder guys. Audrey makes it a point of ensuring that every player that visits her field feels welcome, has a fantastic time, and gets to really experience the rush that tournament paintball brings with it. Her mandate to the Thunder players is to be accessible and help the newer developing players whenever possible. You'll often see Thunder players mixed in with walk-on's and the 'no attitude' aura that she brings to the park is one that makes everyone who visits DHP come back for more.
JJ @ ProPB: How did you get involved in paintball?
Audrey: I got involved in the typical way. My son Josh went to a birthday party at our local indoor field. The rest is a 6 year long adventure. He went from a recreational player to a tournament player within 6 months. He and I were lucky enough to have several mentors over the years that helped him progress to his current D1 status. I would like to thank Eddie Molter, Brian Hafdahl, Corey and Kasey Field for their support of both Josh and I. I started with organizing a team called Fearless. We played local and national events from 2007 to 2009. When that team disbanded Corey Field and Raymond Knuth asked me to manage Naughty Dog Silver (D1) in 2010. They handed me some very good players and we took the team to NPPL series Champions that year. After the 2010 season I left the Naughty Dogs to start a field of my own. In January of 2011 I met Dan Mills. He owns Harrisburg Motorsports Complex. He felt paintball was a good fit for his park and Diamond Hill Paintball was born. I named it after the I5 exit you take to get to the park. JJ Roth and I started Seattle Thunder when I was notified that I had won a Pro spot by having managed the team that became series champs. We then conned Corey Field in to becoming our team captain. This is an adventure that has just begun! I have never played paintball but I have fallen in love with the sport and the people who are part of it. You all are the best!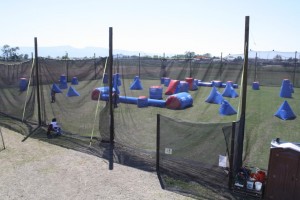 JJ @ ProPB: What are your goals for next year in regards to Diamond Hill Paintball?
Audrey: Goals for next year…..I want to create a paintball park that anyone can come and have fun. I know that is a bit cliche but true none the less. To grow, paintball needs to get the young and their families involved. I want my park to become a fun destination for everyone. Having said that, I can tell you that I want to build a bigger recball field and put in a second speedball field. I hope to be part of organizing reffing clinics, Pro drill clinics and hosting several tournaments.
To give you an example…We put together a Zombie Maze for Halloween. It was a huge success. There were a lot of people who have never played paintball who came out to try something different for the holiday. They have already started to come to the field with birthday parties and more. The smiles on their faces and the glow in their eyes are why I keep doing this!
JJ @ ProPB: What are your goals for next year in regards to Seattle Thunder?
Audrey: My goal for Seattle Thunder is to work towards shining as a team. Winning is not the only thing that makes a team shine. A team shines when everyone sees them as, not just as winners but also as stewards of the game. That means some off field time for fundraisers, running clinics for kids and promoting paintball outside of national events. Seattle Thunder will be part of helping Northwest paintball grow. Oh and of course we will be on the road to win a trophy as well!
JJ @ ProPB: What tournaments/events do you have planned for Diamond Hill Paintball in the upcoming season?
Audrey: DHP will be running two NPPL 7 man feeder events. One will be before HB and the other will be before Vegas. I will be setting up some clinics for beginners as well as some advanced clinics for those upper level players. I will be working with several others to start a Reffing pool for the northwest. WCPS (West Coast Paintball Series) has already advised me that I will be a field they will be using to run their series. I also have been asked by Dan Bonebreak to assist him with organizing the Oregon State Fair event in August. Everyone has asked for a Streetball event. Whew that is just the start!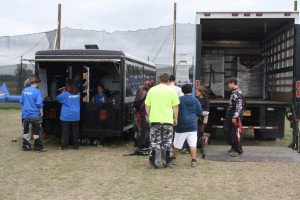 JJ @ ProPB: What do you see the future is holding for tournament paintball in the northwest?
Audrey: Tournament paintball in the northwest has been on the decline over the last 4 years. There are fewer fields open than ever before. On the up side, I have also seen a growth in new kids wanting to come in to the speedball end of the sport. I have also never seen the level cooperation between field owners this high. I have had the privilege of working with Royal Ridges, Impact Action (closed for the moment) and Warpaint International (their out door field is also closed for the moment). We all see the need and are working together to grow the sport. This is why it is critical for teams such as Seattle Thunder to get their name out to the public. We need to be a recognized sport by everyone. That will pave the way for more fields to be allowed to open.
JJ @ ProPB: Who do you see as up and coming teams from the northwest?
Audrey: Now that is a tough question. There are quite a few good teams. N.W. Devastation (D4-Royal Ridges), Notorious (D3-OP-Seattle), Shameless (D1-DHP), Infected (D2-DHP), APC (pump-DHP), Crossfire (D4-Impact action) and many more. If I had to pick a team to highlight this year I would have to say Shameless. They are a team that have been around for many years and have made it to D1 pretty much on their own. They were just starting their D1 ranking when, in 2010 several members were picked to play on the ND Silver team. When Silver disbanded in at the end of the 2010 season, Shameless re-formed to play D1. They have split their time between Royal Ridges (where they have been coaching NW Devastation) and DHP where they have been working with Seattle Thunder. The guys on this team are a very dedicated bunch and deserve to acknowledged for it.
JJ @ ProPB: Any acknowledgments you would like to make?
Audrey: Lets start with the staff at the NPPL. They have worked with me on several issues and have been very supportive for a first time Pro team owner. You guys rock! JJ Roth and Corey Field. Thanks you two for your friendship and your help with Seattle Thunder. We will make this a great team together.
BW Dunn (Pro Caps), thank you for your support this last year. You are one of the few people who saw the potential for DHP and helped make it happen.
To Eddie Molter, a big thanks for the long hours getting the field up and running. We would still be at our first ghetto spot if it weren't for you and the rest of the staff at DHP. Lastly to my family, thanks. Starting a new business can be hazardous on relationships. You guys have jumped in and helped when you can and I appreciate it!