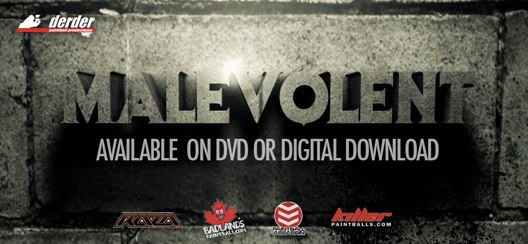 Derder Productions has supplied the paintball community with several masterpieces including 300FPS, Derder Short Bus, Soldiers of Misfortune and Natural Selection. At the 2011 PSP World Cup, Derder unleashed the latest master piece, Malevolent – over an hour of action packed footage featuring pro paintballs best of the best from Phoenix, Chicago, Mid Atlantic Open and World Cup.
Rob Astamendi from Derder Paintball videos is celebrating his birthday today and has invited you to the party.
It's my birthday and I'm giving 40% EVERYTHING on the Derder site. Use coupon code: facebook. Today only. Enjoy.
These DVD's would make a great holiday gift to you or your friends paintball collection. What are you waiting for? Jump in and pick up Malevolent, or even better, the Big Baller Pack (tons of Derder greats).
Malevolent Paintball Video Trailer
[youtube]https://www.youtube.com/watch?v=DFG9cpQYIss[/youtube]