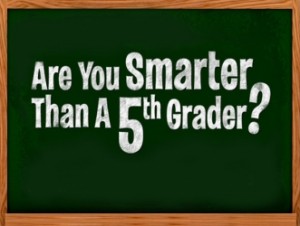 Paintball finds itself on television in the most peculiar ways. Last night, Don from SLY Equipment was a contestant on the prime-time television series, "Are you Smarter than a 5th grader", hosted by long time comedian Jeff Foxworthy. The show provided an excellent opportunity to promote the game of paintball and Don took full advantage. Don briefly introduced his paintball background and then proceeded to answer a series of tough questions as he competed to win the grand prize of $250,000.00! With no hesitation they immediately jumped into the questions starting with 5th Grade History, after answering the first $5,000.00 question correctly, Don jumped into 4th Grade History and both he and his fellow 5th Grade student answered incorrectly, resetting the bank back to $0. With help from his second of three students for the night, Don and Pablo successfully answer a series of questions and begin stacking up thousands of dollars. After answering all but one of the questions correctly, Don had an opportunity to answer a bonus $150,000 question that he wisely walked away from and collected his $15,000.00 prize. Congratulations Don!
Details on the show;
From Mark Burnett Productions, Jeff Foxworthy hosts brand new half-hour episodes of 5TH GRADER which will feature all the fun and challenges of the hit broadcast primetime version where adult's knowledge of grade-school level questions is tested. Grownups find themselves in a classroom setting, revisiting their youth, as they tackle subjects they've already been taught, ranging from art to geography and math to social studies. In ARE YOU SMARTER THAN A 5TH GRADER?, however, the players are not alone and there is a way for contestants to "cheat" in this classroom. The adults have the opportunity to get some help – in the form of elementary advice from real grade – schoolers who have hit the books.
Are you Smarter than a 5th grader? is broadcast Monday nights at 8pm PST on FOX.