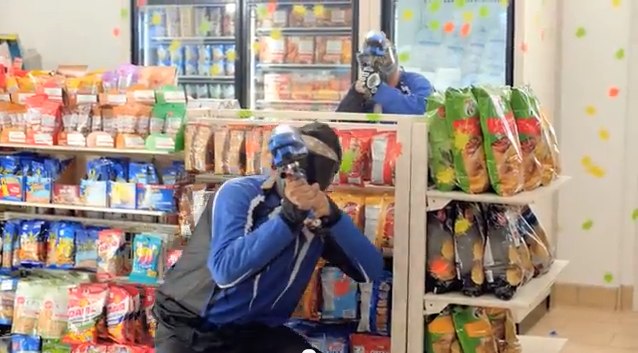 Convenience store chain 7-11 has joined the growing list of successful businesses that are leveraging paintball as a way to appear cool and trendy in marketing their businesses. In the last year or so, companies like Best Buy, Activision via Call of Duty, hit tv-series Community, and others have marketed products using paintball. In today's paintball marketing spotlight, 7-11 features an all-out paintball game inside a convenience store during lunch hour.
The 7-11 commercial is a bit different as it features several experienced paintball players battling it out (as opposed to a group of bad actors). Check out the rapid fire, crazy stunts and tons of well aimed shots.  Critical Paintball, a division 1 NPPL team, lent a hand in the production of this video. A few of the players-turned-actors featured in the commercial include Jon-Paul Fortunati, Myk Lambrose, Edwin Dolgopyat and Randy Felix.
[youtube]https://www.youtube.com/watch?v=85SS6XJFSUM[/youtube]
On behalf of everyone here at ProPaintball, we would like to thank the guys at Critical Paintball and 7-11 for helping promote paintball in a positive light. Congratulations on the big screen action guys!