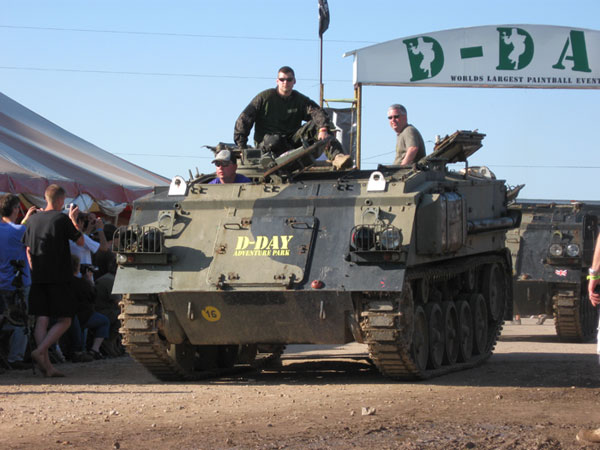 Oklahoma D-Day 2011 is right around the corner. Taking place June 6th-12th, the event will pit the Axis and the Allies against each other in a D-Day style paintball re-enactment. For those of you unfamiliar, D-Day is the worlds largest paintball event and is held on an annual basis. The event draws in anywhere between 3,500 and 4,000 players ranging from new paintball players to hard core scenario types. Rather than a chaotic mass of players running around, Dwayne and Ed have stayed true to the real Normandy invasion and have arranged for the game to have multiple battles in different locations taking place simultaneously.
Here are a few words from the official website;
The event runs for an entire week with the main D-Day game starting on Saturday morning at 9 AM. During the week there are several mini-scenarios, qualification courses, and walk on speed ball games. Thursday night is always our famous Night Game which is NOT for the faint of heart!  Rustic camping is included in your pre-registration fee and the week turns out to be an experience that you'll never forget!  What you put into it, is basically what you'll get out of it.

Since there is so much going on, you should plan the activities that you want to attend as well as set a budget. Nothing is worse then burning up all of your paint and money before the main game. It's bad for you and extremely bad for your side. Commanders need you out on the field, giving 110% for the entire day on Saturday. It's fine if speed ball is more your style, but you registered for Oklahoma D-Day, not an NPPL Tournament. If you have enough money and paint to burn, by all means feel free to rock the speed ball fields all week long. Likewise, if you just came to hang out in a camp site, Yellowstone would be a better choice. But the single most important thing you can do is be out on the field swapping paint with your opponent for the entire day on Saturday!

The main game is long and it's usually very hot. You are the only person that knows your own limitations, however for your side to be effective, you need to pace and sustain yourself. Staying hydrated is critical! At every opportunity you should be drinking water. For a quick snack at a Dead Zone, pack a couple of Power Bars. They will help sustain your energy level and get you back into the game quickly. Even though air and paint are available at certain dead zones, you should be prepared to carry most of your equipment with you since you'll probably want stay in the action as long as possible.

Like any large scale battle in WWII, WWI or even the US Civil War, tactics, primarily on the strategic level, will decide the outcome of Oklahoma D-Day. Because of this, planning for next year's event usually starts the day after that year's event. It begins with the recruitment of players, organization of the units and communicating with over 3,000 players. Trust your commanders, they'll get you through the game.

All the way,

Dewayne Convirs, Promoto
Dwayne and Ed from Oklahoma D-Day have posted the orientation video online to make your experience that much more enjoyable.
[youtube]https://www.youtube.com/watch?v=yHQ5uHDM8ak[/youtube]
Visit the official D-Day paintball game website for more information.