Well let's see.  Four teams separated by two points. The possibility looms that we will have a series points tie when the smoke clears. It's that close. An earmark of this season in the NPPL Pro Division has been the minimal amount of practice on the layouts.
This lends itself to just what we see. Experienced Pro rosters that adapt quickly sit atop the leader board. Infamous, Dynasty, and Impact all have experienced seven man players who have been playing the seven man game for a long time.
Then there's Damage. Tampa Bay wasn't built specifically for the seven man game. It was a team that came into being to win the Race to format. But here they are two NPPL wins under their belt and pressing hard for the series win.
A third win would give Damage the championship outright. The same goes for Infamous who currently leads by one point. Beyond that it gets tricky.
A Host of Scenarios

IF INFAMOUS COMES IN FIRST THEY WIN THE SEASON
IF INFAMOUS COMES IN SECOND TO ANYONE OTHER THAN DAMAGE THEY AT LEAST TIE FOR THE SERIES
IF DAMAGE COMES IN FIRST THEY WIN THE SEASON
IF DAMAGE COMES IN SECOND TO ANYONE OTHER THAN INFAMOUS THEY AT LEAST TIE FOR THE SERIES
IF DYNASTY COMES IN FIRST AND NEITHER INFAMOUS OR DAMAGE FINISH SECOND THEY WIN THE SEASON (IF IMPACT FINISHES SECOND THEY WOULD BE TIED IN PTS)
IF IMPACT COMES IN FIRST AND IMFAMOUS AND DAMAGE FINISH THIRD OR LOWER THEY AT LEAST TIE FOR THE SERIES
How the NPPL Rules handle a Series ending tie remains to be seen.
Possible Dark Horse?
With the Portland Naughty Dogs strong showing in DC, we like their momentum. We also liked the fact that they would be focused only on Vegas. However, that changed this past week as the Dogs will make a showing in the Pro Division at Cup.
Another possibility might be Oakland Blast, but Bob's boys have dealt with win some internal issues all season. Will either of these two teams play the spoilers role? Is there another team biding its time, looking to wreak havoc on the final event of the seven-man season?
The Wild Card
The wild card factor in Vegas is three-fold. On the one hand the four team all vying to win the NPPL Pro Season Series are in the mix for World Cup two weeks later. The team(s) who is able to focus and then shift gears should fare well.
A substantial number of players are involved in the second wild card. These players from the top four teams will be playing in Paris the week before Vegas. How all the travel and fatigue might affect individual players is hard to gauge.
A final wild card factor is the possible implementation of an altered format. This format called S7 was unveiled in DC for the All-Star Game. It's a best of three with a time limit between games. While it would have a slight resemblance to Race-to, it would remain to be seen which team adjust the best.
Best Bet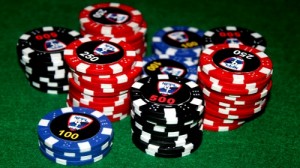 One thing is for certain, its Vegas and each team will play with the hand that dealt them. From Infamous successive climb this season to Tampa Bay's hard fought back to back tournament wins, the margins are tight.
Dynasty has added even more quality to their roster and we think an advantage in the end. The odds seem less favorable for Damage winning a third event, but we don't count them out.  Impact is also striving for a first ever Pro Series Championship.
With so much riding on the outcome, the play should be fast and furious. We are going to 'call' Infamous over Dynasty in the Finals.
Infamous
Dynasty
Damage
Impact