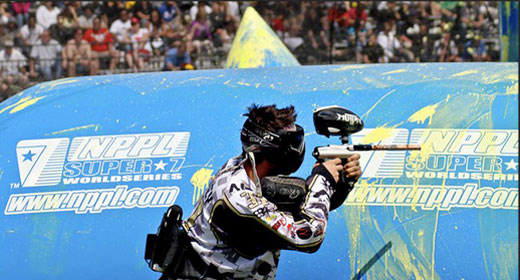 Big changes for the NPPL in 2011?
The following are the latest news & rumors from the NPPL 7-man paintball series.
New Leadership
The NPPL is making a leadership change. Word is that Chuck Hendsch is stepping down from day to day operations. Replacing Chuck will be Mike Peveril of Pev's paintball as president of the NPPL. A search for the new commissioner is underway as well.
Huntington Beach
The NPPL website has confirmed the dates for Huntington Beach as April 1st, 2nd and 3rd of 2011. Start searching for deals on airline flights as rates are said to go up 10% in 2011.
New Super-7 Format
The NPPL is evaluating and fine tuning the Super-7 format during the off season for use throughout 2011. The Super-7 format debuted at the 2010 DC Open and utilized a match style game system in a best of 3 format. PRO Paintball Insiders speculate that the Super-7 format will be in play throughout the 2011 series, at least on the pro level.
PRO Paintball teams are said to be debating wether to go to a 5 point format as opposed to the current 3 points. The argument in support of 5 point matches rest on the concept that more points and more action will do a better job of entertaining the spectators. The argument against suggest that the league would be replicating the PSP with semi auto guns.
Affiliates
The RPL will be an NPPL affiliate league in 2011. Hopefully the feeder system actually feeds a few teams in this time around. The RPL is predominantly a 3-man and 5-man league. As of writing we have not received any info as to how Shawn Walker plans to (or if he will) restructure his league to support the 7-man format.
New PRO Paintball Team?
PRO Paintball insiders suggest a new NPPL franchise team is in the works. Sources suggest the team is from the East Coast but not much beyond that is known.