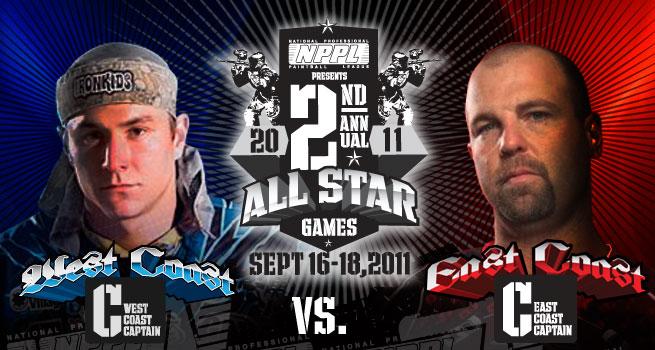 Paintball News & Rumors from the NPPL DC Challenge
Coach Dan Wake of Los Angeles Infamous was said to have left DC after a pre-event practice with Infamous. ProPaintball insiders speculate there may have been a parting of the ways. If the rumors are true, Wake's departure could be a huge loss for Infamous.
San Diego Dynasty coach Mike Hinman is missing in action here in DC. No word as to why.
The NPPL will be testing a new paintball game format during the Allstar game. ProPaintball insiders suggest the NPPL hopes this format will be chosen if a PSP/NPPL merger were to take place. Otherwise, sources suggest the NPPL may utilize the new format in the 2012 season. Stay tuned for details.
Jason Bornstein (Hammer #1) of Oakland Blast is returning to the field after a long hiatus. After undergoing shoulder surgery, Jason spent the off season and most of this year in recovery mode. He will be joining his brother Corey Bornstein (Hammer #2) on the dorrito side.
ProPaintball writer Tim Cerruti has joined San Francisco Explicit and will be playing pro in DC. Prior to joining Explicit, Tim played pro paintball with Scottsdale Elevation, Phoenix United, and WCPPL divisional team Fuzion. Congrats Tim!
Both Frank Connell (Avalanche) and Oliver Lang (Dynasty) will be sitting the first 5 games in DC due to suspensions received for unsportsmanlike conduct in Chicago. On Sunday, Frank and Ollie will be representing the East and West Coast in the NPPL All Star Game. Be sure to tune in to the NPPL Webcast for what is sure to be a crazy match.
Tampa Bay Damage will be signing autographs and hanging out with fans at the Custom Product booth. Be sure to cruise by the CP booth during the DC Challenge on Saturday September 17th at 1pm. The first 100 people will receive a free paintball t-shirt courtesy of Tampa Bay Damage.
LA Infamous was disqualified from competing prior to their 3rd game for playing Justin LJ Schwarz, a suspended player. Social Paintball caught up with Greg Sewiers for the full scoop.
[youtube]https://www.youtube.com/watch?v=Isyyq0axexA[/youtube]
NPPL DC Webcast:
The NPPL is hosting a free paintball webcast showcasing this weekends pro paintball games. The Pro games will be available on youtube after a 10-15 minute delay.
Don't miss a minute of the action all weekend long! Our host for this event will be none other than Todd Martinez! Todd's sharp, irreverent humor and incredible knowledge of paintball will make for some incredible entertainment!
DC Challenge Free Paintball Webcast schedule:
Friday Sept 16th 10am (EST) until Pro games end
Saturday Sept 17th 10am (EST) until Pro games end
Sunday Sept 18th 9am (EST) until Pro games end