Ninja Paintball (official site) are hosting a series of events and giving away free paintball gear at the PSP 2011 Chicago Open. On Friday, 6/24/11, the guys from pro paintball team Edmonton Impact will be hanging out at the Ninja booth. Be sure to stop by and meet and greet players such as Justin Cornell, Tim Montressor and Zac Yachimec and the rest of the guys from Impact and grab an autograph. Shortly after the Impact signing, Ninja Paintball will be giving away free Ninja paintball t-shirts.
On Saturday, 6/25/11, stop by the Ninja booth and meet pro team Omaha VICIOUS. This is a great opportunity to talk to the team, grab some pro autographs and maybe ask the team for a few paintball playing tips. Right after the VICIOUS signing, Ninja will be hosting another giveaway with more free paintball gear including Ninja paintball shirts as well raffling off a VICIOUS-autographed, Ninja Red 68/4500 bottle with a limited edition Vicious team regulator.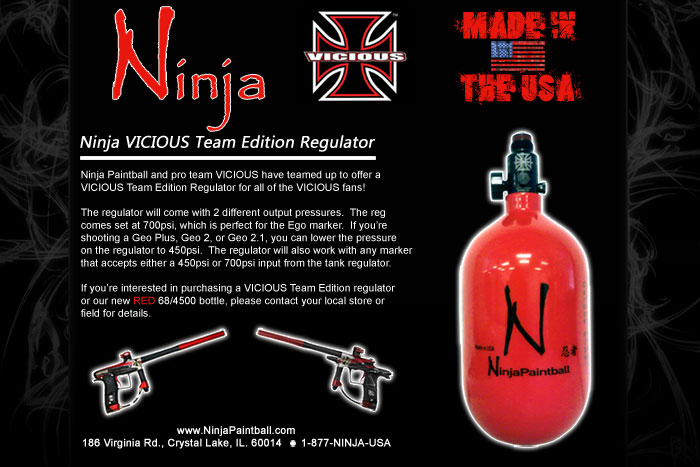 The best part about Ninja's free paintball give aways is that they are running the raffles at no cost or obligation to enter. All they ask is that you limit your entry's to one per person. Time for the team signings, giveaways, and raffle will depend on the pro team schedules being released next week. Feel free to stop by the Ninja paintball booth at the event for more information or contact Rob Leary at 877-646-5287 x309 or by email at [email protected].