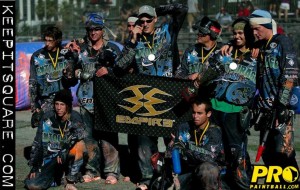 After the announcement was made that Entourage would be moving into the pro paintball division in 2010, paintball players and fans across the world were left wondering how it would work. Will Entourage continue to be a part of the San Diego Dynasty franchise? Or, will Rodney and the Entourage players split off and develop a new self sustainable franchise. The following press release came to us this morning and sheds light on the future of the Entourage paintball team.
Exclusive ProPaintball.com Press Release:
Dynasty Entourage, winners of the 2009 USPL Semi-pro series and all four events of the USPL will be graduating from the Dynasty farm system and unit. Team Entourage will be based out of Newport Beach and will be competing in the 2010 USPL PRO Division as well as the 2010 PSP semi-pro X-ball division and elements of the team will be at various scenario events through out the United States. After four years of being Dynasty Entourage and winning more events then any other single team through out those years in their division the students feel its time to face the masters, and will be competing at the highest level of paintball one can play. World Famous Entourage will also be the flagship team for JT USA, supporting and wearing the all new 2010 line up of JT pants, JT goggles, JT arm pads, JT knee pads, JT jerseys, JT gloves, and JT gear bags. World Famous Entourage will be using Custom team tanks from Guerilla Air along with new 2010 Empire Prophecies. World Famous Entourage will also be the newest member to the Bob Long family and will be shooting the all new 2010 Bob Long Victory LE gun, fully equipped with Tadao OLED Boards, Violent Products Triggers and Magnum Regs. The team will also be Giant Paintballs Factory team with a team stadium built at Hollywood Sports Park. Along with these sponsors World Famous Entourage will also be sponsored by GEN X GLOBAL. The team feels that with competitive practicing and efficient training methods which have worked so far so good for the team that they will be able to handle the step up in the divisions as well as compete at the highest level. The 2010 line up will consist of Mark Lack, Tyler Shelton, Ronnie Filippone, Raney Stanzcak , Ryan Collette, Ryan Martin, Dalton Vanderbyl, Kekoa Ferguson, and the newest member to the team Bear D'Egidio. With that said the team looks to have an exciting season and thanks all fans and support they have been given over the years. World Famous Entourage looks to have an exciting year with so many events and new companies supporting them the opportunities seem endless and stay tuned for any new information regarding the team and updates on our new PBNation Professional team thread.
— END
BallersCafe has a great interview with Giovanni D'Egidio talking about Entourage, the sponsorships, and rumor that Scott Kressin of HKArmy may be joining the X-ball team. Be sure to check it out here.