Part 2 of our New Paintball Guns, Gear & Rumors for World Cup features an update on the Luxe 1.5 and the EMPIRE AXE paintball guns. Check out Part 1 here.
Luxe 1.5 Paintball Gun
The DLX "Luxe 1.5" is set for release at PSP World Cup. This is a revision release based on feedback Darryl Trent collected from Luxe owners throughout the season.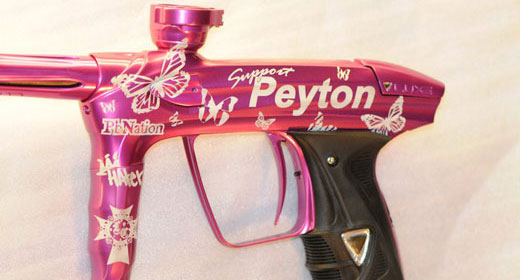 The changes include new eye covers with a screw to securely fasten them to the paintball gun. A second and more minor change is the new milling on the front of the gun removing the Luxe emblem. We anticipate that Darryl will have several unique splash anodizations and color schemes available. For a hands on look, be sure to check out the CP Booth at PSP World Cup
EMPIRE AXE Paintball Gun
KEE Action Sports will be launching the new EMPIRE AXE paintball gun. We had the opportunity to check this gun out in person at the Paintball Extravaganza in September and were very impressed. The AXE is the 2nd generation of the Invert Mini and features numerous upgrades and improvements from its predecessor.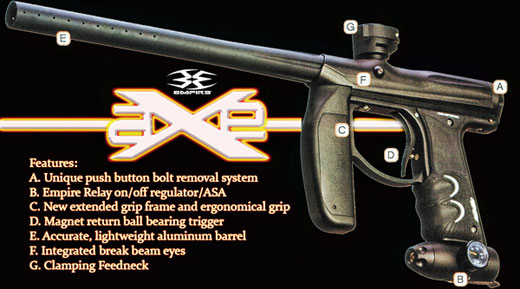 Based on customer feedback, EMPIRE has equipped the AXE with an ASA (under the grip), tool-less bolt removal, and a larger area around the trigger and a quick change auto-cocker barrel. The EMPIRE Axe will have an MSRP of under $500.00. Stay tuned as PRO Paintball will be making a full review and evaluation of the new EMPIRE AXE paintball gun in the coming weeks.
MacDev Clone VX
MacDev has refined their popular MacDev Clone paintball gun. The Clone VX features re-designed VX Drive, Feed system, Software, and Regulator.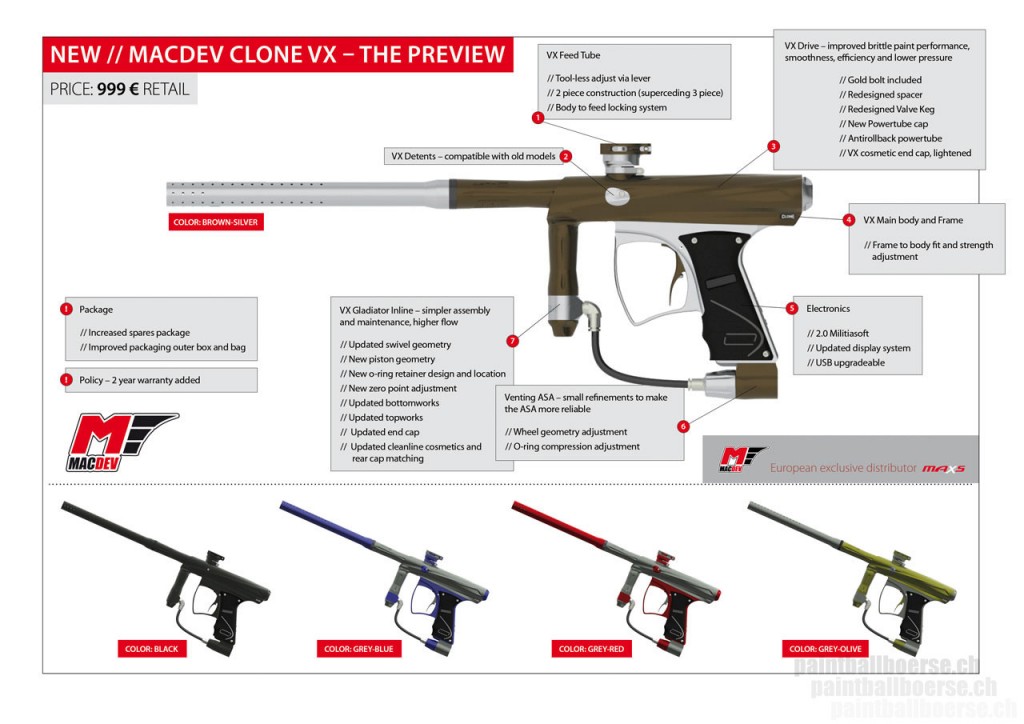 MacDev are pleased to announce the impending release of the new Clone VX marker. The Clone VX is a highly refined version of the successful Clone marker of 2009. MacDev design engineers have revised many aspects of the marker, making it even better than the original Clone model.

Quote from James Grundy of MacDev:
"The Clone VX isn't a crazy new invention. We haven't reinvented the wheel. Just made it better, in essence the Clone VX is a revision giving the players what they have asked for after applying feedback for some of the top players in the world (Russian Legion, Syndicate, RNT etc).

What we wanted to do this season was take the Clone Platform and simplify/ refine parts that could have proven to be annoying to some players. We believe we have achieved this delivering our most polished gun yet."