The new Planet Eclipse Etha paintball gun is targeted at players looking for an economical alternative to the high priced paintball guns on the market. Based on an aluminum body and a polymer grip frame, the Planet Eclipse Etha is both light weight and very durable. With a price of only $399.95, this paintball gun is definitely worth checking out. Read on for photos, details, and full product specs.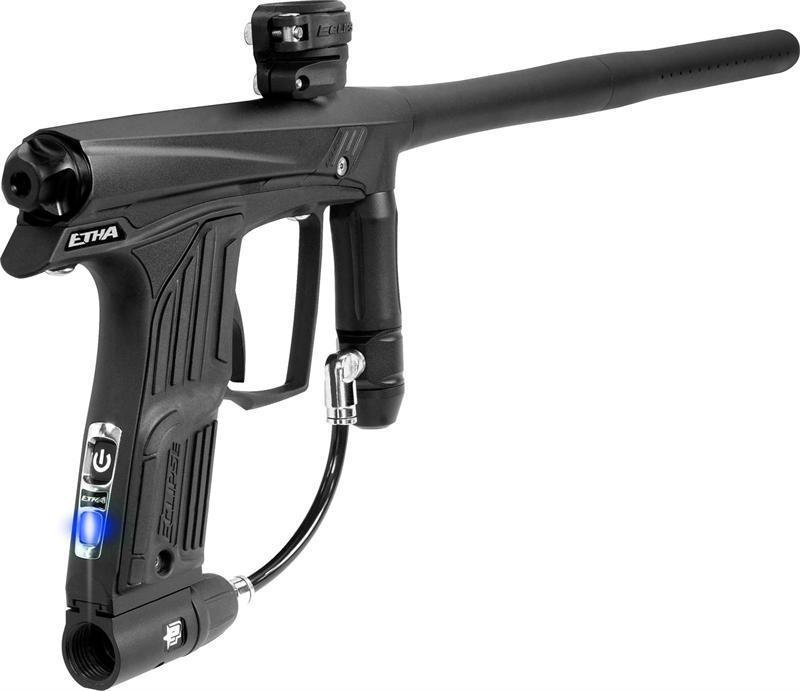 Planet Eclipse Etha, New Paintball Gun From Eclipse
Our friends at German paintball website PBHub.de alerted us to a new paintball gun that was spotted at a scenario paintball game in Germany. The new paintball gun, known as the Planet Eclipse Etha, uses a single tube design, similar to the Planet Eclips GEO. The Etha was used by "Operation Sandbag", a team composed of Planet Eclipse workers and friends.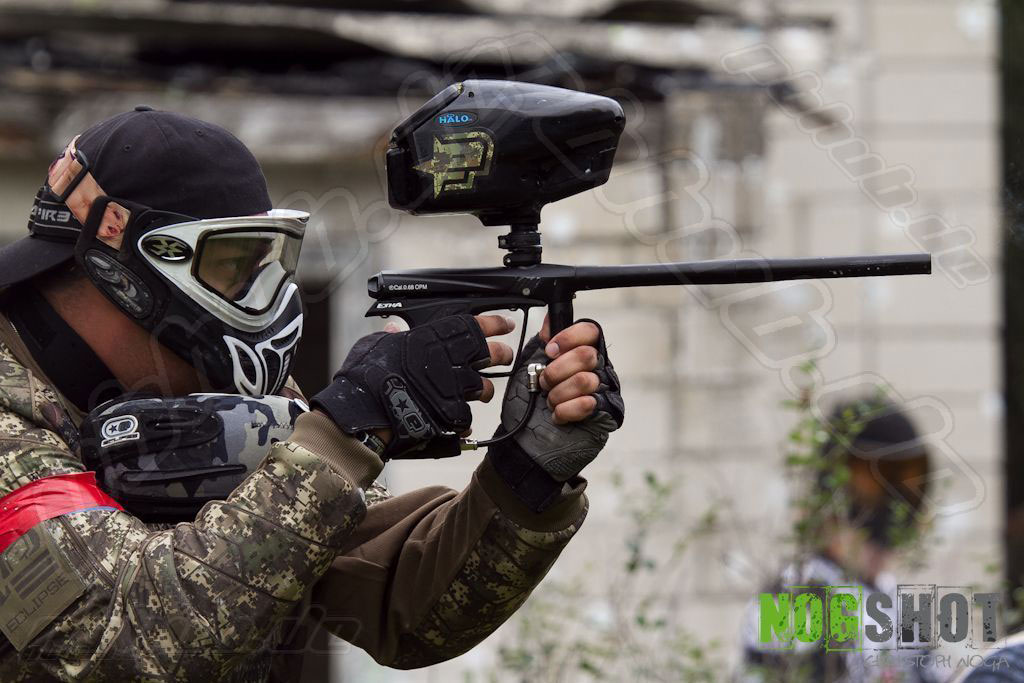 This new paintball gun will be unveiled at the 2011 PSP World Cup. According to Planet Eclipse sources, a limited number of the new Etha paintball guns will be on display for dealers to evaluate. We are hoping that a few of the Planet Eclipse Etha paintball guns will be available for sale to the public. Insiders suggest the new paintball guns will be released to dealers in time for the 2011 Christmas season.
Updated 10/13/11: The Etha paintball gun is now available for purchase. Full specs have been released.
Planet Eclipse Etha – New Paintball Gun Specs
MSRP: $399.99
Planet Eclipse Etha Dimensions
Weight: 930g/2.05lb Including 14.5 Shaft4 Barrel, Battery, Feed Tube, POPS
Length: 539mm Including 14.5 Shaft4 Barrel
Height: 212mm
Width: 33.5mm
Planet Eclipse Etha Materials
Body: 6061-T6 Aluminium
Barrel: 6061-T6 Aluminium
Frame: Glass Reinforced Nylon
Feed: Glass Reinforced Nylon
Eye Covers: Glass Reinforced Nylon
Planet Eclipse Etha Electronics
Interface: Single Push Button plus Tourney Lock
Display: 1 x Tri-Color LED Indicators
Solenoid voltage: 9Volts
Processor voltage: 5 Volts
Processor: 8-Bit 2MHz
Power Supply : 1 x 9V (PP3) Battery
Planet Eclipse Etha Hardware
ASA Mount: T-Slot mounted adjustable rail with Front Exit OOPS (On/Off Purge System)
Trigger Methods: Micro Switch
Trigger Mechanism: Leaf Spring
Trigger Pivot: Self Lubricating Sintered Brass Bushing
Barrel: 2-Piece Micro Honed Shaft4 14.5″ length 0.693″ Bore
Feed Tube: Lever Operated Clamping Feed
Planet Eclipse Etha Pneumatics
Operating Principle: In-Line Blow Forward Bolt
Solenoid Type: High Pressure Solenoid Valve
Drive Mechanism: Dual Force Pull Poppet
Bolt Mechanism: Rubber Tipped CS Bolt
Planet Eclipse Etha Ergonomics
Grip Type: Contoured Dual Density Grip
Grip Pitch: 156mm
Planet Eclipse Etha Firmware
Firing Modes: Semi and Ramping Capped and Uncapped
Debounce Modes: 10 Debounce Modes
What are your thoughts on the new paintball gun? Is this a GEO3? Or, will the Planet Eclipse Etha be an mid-level paintball gun much like the Etek? Share your comments below.
Photo Credit: NogShot