MacDev, a family owned paintball company from Sydney, Australia, is putting the finishing touches on their newest paintball gun. The MacDev Drone DX is a mid-range tournament paintball gun that will be both reliable and affordable. This new paintball gun has been undergoing testing for the last 8 months and initial reviews are all very positive. The new paintball gun from MacDev will carry an MSRP of $550.00 however there is no word on a release date. Read below for full specifications.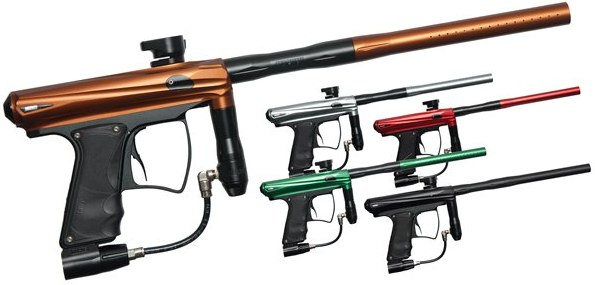 MacDev Drone DX Feature List:
VX all aluminium adjustable clamping feed
VX Venting ASA
VX Inline regulator
VX trigger
New Drone wrap around grip – new materials, very durable

The trigger spacing, and height of the Drone DX is identical to the Clone VX. This has been done to ensure that players can use either gun, without needing to change their playing style. It also has a number of interchangeable parts, so that teams can use a mixture of guns without needing a whole new part set.

You may ask – where is all the cost saving? The Done DX is half the price of the Clone VX. We simply refused to save the cost on build quality – so the gun is made from the same full machined aluminium as the Clone, and uses the same important pneumatic and structural parts. However, we did reduce the cost by adjusting the design of these things:
– Body milling/styling – much simpler, and a little heavier overall than the Clone VX
– Frame milling/styling
– Barrel
– Electronics (no OLED, no USB)
– Drive platform (simpler DX drive)
– Solenoid (simplified to run the DX Drive)
– Eye covers
What are your thoughts on the new paintball gun from MacDev? Will you be upgrading to the DX?