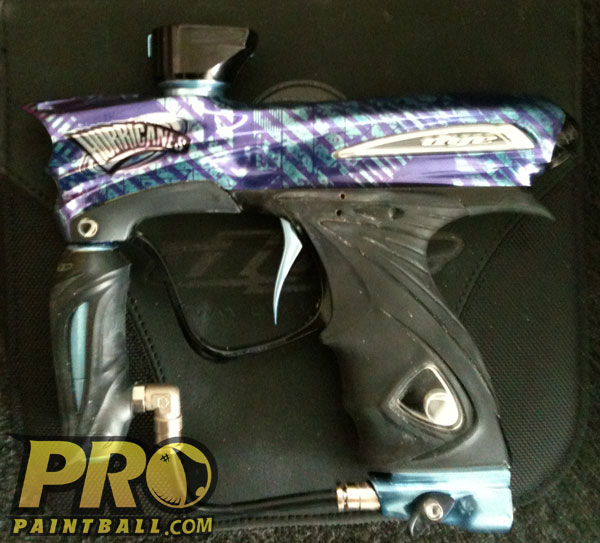 ProPaintball is proud to present a first look at the new paintball gun for the New England Hurricanes. ProPaintball caught up with Hurricane player Billy Bernacchia at NPPL Huntington Beach and snapped a few exclusive photos. As many of you will recall, Bernacchia has been a long time Planet Eclipse player and at one point worked for the US division of Planet Eclipse.
At the end of 2010, Billy announced that he would be leaving San Diego Dynasty to return to his home team the New England Hurricanes. According to a statement issued by the Hurricanes, Billy returned to rebuild and lead the Hurricanes back to the pro level. Billy Bernacchia of NEH and Billy Wing of DYE Precision were nice enough to provide us with a few words on the new paintball guns.
Billy Bernacchia (website) of the New England Hurricanes told ProPaintball
This was my first time shooting the DYE NT11 and I must say it was completely on point all event. I wasn't too familiar with the gun and Billy Wing was kind enough to help go over the basics with me. I am looking forward to a good relationship with DYE for 2011!
Billy Wing of DYE Precision told ProPaintball
"DYE is fully committed to giving our teams and players the very best product support possible. DYE is excited to have a high profile team like the NE Hurricanes and a manqué player like Billy Bernacchia competing with 100% DYE products this year. Organizations like the Hurricanes exemplify the professionalism and brand representation we expect from our premiere sponsored teams. DYE wishes the Hurricanes the very best of luck for 2011."