Earlier this morning Empire Paintball began unveiling their new paintball gear. ProPaintball insiders have spent the morning checking out the new equipment. We are very impressed with what we have seen so far. What we didn't expect to come across however was the new paintball gun known officially as the Empire Sniper. Rumors were circulating earlier in the season that Empire was developing a pump gun. ProPaintball insiders speculated that Empire would develop a pump paintball gun based off of the popular Worr Game Sniper design. The rumor itself held merit due to Empire's acquisition of JT/View Loader/Brass Eagle/WGP in 2010 from Jarden, however, until now no other details were available. Below are the first photographs of the Empire Sniper as well as a brief overview of the new paintball gun's features.
New Paintball Gun:Empire Sniper
The new paintball gun from Empire is designed for players that enjoy playing pump paintball. You can tell Empire has done their research in the pump segment as this new gun features one of the most popular upgrades, the pump arm. The pump arm is a more ergonomic method of loading a ball into the breech and is very useful in situations where you might give away your position by grabbing the pump. The Empire Sniper also features an Empire Nightstick barrel, half block design, hogue .45 grips, clamping feedneck and possibly a regulator. The Empire Sniper features a trimmed down body to remove excess weight. All in all, the Empire Sniper is a great improvement over the WGP Sniper.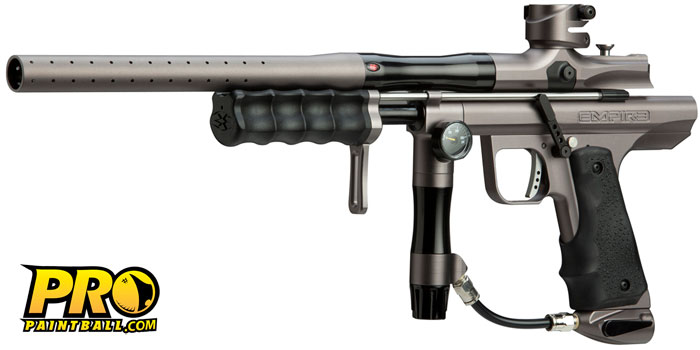 The Empire Sniper has come a considerable way from the Sniper from Worr Game Products.Do you play pump paintball? What are your thoughts on the Empire Sniper Paintball gun?