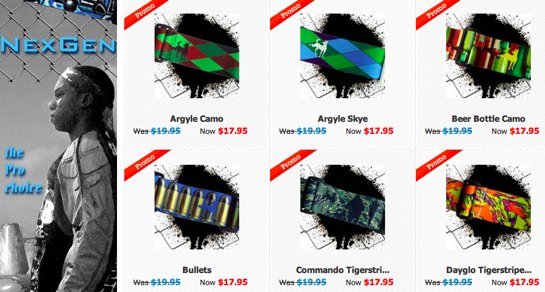 Bad Dog has unveiled a new paintball goggle strap that is designed to work properly with all next generation goggle systems. According to a video posted by Bad Dog, the straps work using a clever velcro system that eases installation while retaining the strength to hold it all together. The guys at Bad Dog Paintball sent over a press release that is a refreshing change from the cut and dry PR status quo and is worth a read.
Baddog proudly presents NexGen goggle straps designed to work– Whoa! Hold on. Not another one. Bored and maybe a little annoyed by all the lame, self-important press releases in paintball? I know I am. So we're not gonna do that to you like everybody else.

Here's the deal: We at Baddog are introducing a new line of custom goggle straps that will fit all the popular paintball goggle systems available on the market and we hope you'll check them out.

The straps look sweet and work great. They feature a custom weave material, triple wave silicon backing and super secure locking system. (It clings tighter than that slimey alien goo in, you know, the movie 'Alien'.) And comfort is second to none. You know how some straps feel like they're squeezing your head in order to get a good fit? Not ours. They are safe, secure & stylin'. And feel as good as they look.

The kids on PSP New Jersey pro winners Tampa Bay Damage have been wearing them for months. When asked what he thought of his NexGen strap Chad Busiere said, "**** off, old man." Trust me, that means he really, really likes them. And we're confident you will too. So confident that leading up to World Cup we're offering a limited time introductory discount on all (retail) strap orders.

In the coming months Baddog will be adding lots of new goggle strap designs along with new product lines. Stop by and check us out. Might as well bookmark the page while you're at it.

Don't be a stranger. Drop by anytime. The internet is open 24/7. www.baddogpb.com

Please direct all dealer inquiries to [email protected]

Please direct all other inquiries to [email protected]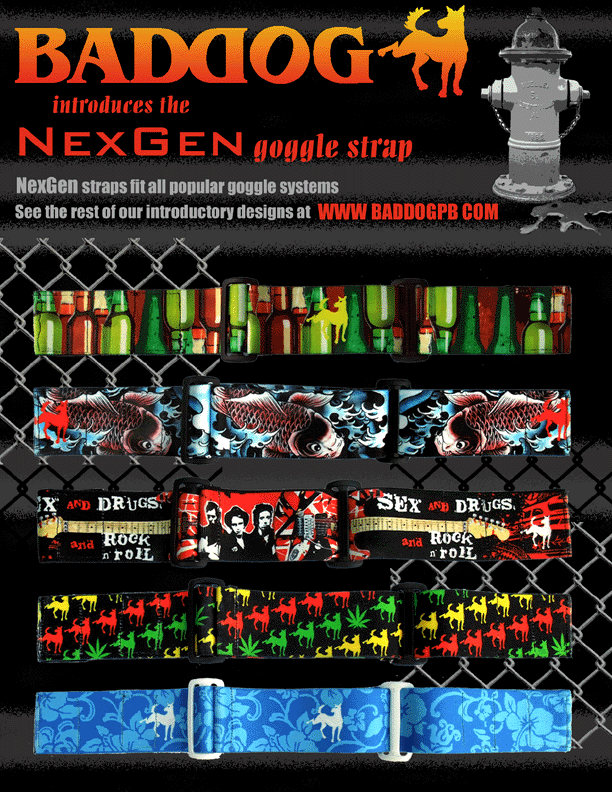 [youtube]https://www.youtube.com/watch?v=9Fj2d4l3hhk[/youtube]
There were a few next gen goggle straps that caught my attention, namely the Tiger Stripe, Punk Rock/Rock n Roll and the Don't Tread on Me. Oh yeah, and be sure to check out the snazzy strap that pro paintball team Tampa Bay Damage is using here.
What goggle strap design do you prefer? Share your picks in the comments below.