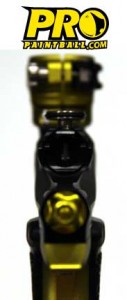 As readers of ProPaintball.com, you will be familiar with the rumors floating around the community that one of the stronger semi pro paintball teams is said to be making the jump into the Pro division next season. As we get closer and closer to PSP World Cup, some of these rumors start to gain credibility. Last week we broke news that former Infamous player Gino Benedicto would be joining VICIOUS and word on the street is that the team is actively seeking out other seasoned pro's for their 2010 pro paintball debut. We recently learned that Planet Eclipse will be a major sponsor of the new VICIOUS pro team. Without further adu, we are proud to present the new Vicious EgoX paintball gun.
The VICIOUS EGOX features custom body and bolt milling from the standard EGOTen as well as a VICIOUS cross chrome plate. VICIOUS EGOXs retail for 1250.00 and include free overnight shipping and 2 year labor warranty from DSS when purchased from DSSP8NTBALL.com.
DSS currently has a limited amount for sale but will also have two black/yellows VEGOXs available after World Cup used by the team. These two come with a 2010 VICIOUS LE World Cup jersey.
Over the course of the year the VICIOUS EGOxs will be available in 6 different colors:
Black/Yellow
Red/Black
White/Green
Coffee/White
Gunmetal/Gold
Silver/Red
Additional colors will be made for VICIOUS and DSS as team guns.
Please contact Julie Bortol at 402-350-4472 or [email protected] with any questions or to place an order. DSS accepts visa, mastercard, paypal, and money orders as payment. Pick one up today at DSSP8NTBALL.com.