Valken Sports has some new paintball gear in the works. According to a pbnation poster by the name of $hmidy, the compressed air bottle is manufactured by Crossfire Composites Inc,. The tank has been custom wrapped with designs hand drawn by Valken artists and features the new lightweight Crossfire regulator. According to $hmidy, the bottle weighs in around 2.7 pounds.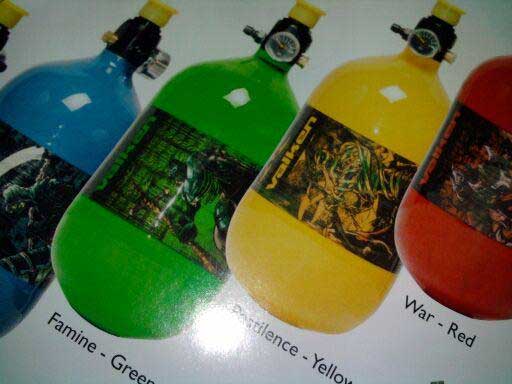 It is interesting to note on Valken's webstore that they also carry compressed air tanks from Ninja, Guerrilla Air, and Crossfire. I wonder if Valken will continue to carry a variety of the brands and or if they plan on consolidating the tank SKU#'s and selling just the house brand. Only time will tell.
What do you think about the bottle graphics? How well would these bottle colors fit with the rest of your new paintball gear?