ProPaintball spotted a new paintball manufacture at the Millennium Paris season championship. The company goes by the name of "Safer" and is a tank manufacturer. According to sources, Safer manufactures tanks for paintball, scuba diving and compressed air dependent operations. The new paintball tanks from Safer has a long history of tank manufacturing and development.
New Safer Paintball Air Tank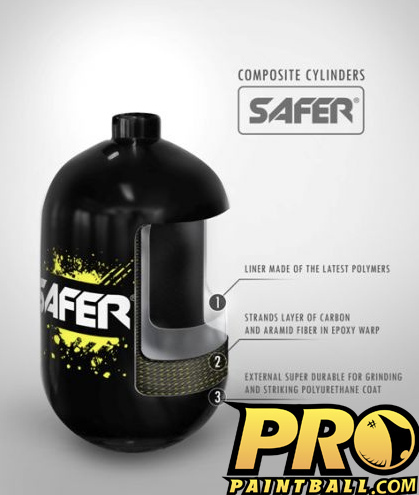 According to Safer representatives at Millennium Paris, the living age of up to 15 years, but still has to go thro rehydro like other tanks every 5 years. The tanks are made of Carbon fiber and composite materials.
These tanks are very light weight with their 1.2 Liter tank weighing only at 1.52 pounds making the new Safer paintball tank one of the lightest on the market. The tanks come in a variety of sizes including 1.2/1.5/2.0/3.0 liters. For reference, 1.2 Liters is about the size of a 68cu tank.
These tanks are manufactured in Poland/Europe and will have PI certification. As of now their is no info if the tanks will have US certification and will be allowed to the US market. According to ProPaintball insiders, Safer has invested considerable time and money into development of these new bottles and the certification process so its highly possible that they will have United States certification.
No price is known to date, but its said to be around 170 dollars/120 Euros.
Visit SaferCylinders.com for more information.