Eric Prum of S2 Customs USA recently sat down with ProPaintball to discuss the new S2 Function paintball gear. Style Supply has made a name for itself by crafting high quality paintball gear that infuses functional design with a creative style. Many of the top teams on the pro fields such as Russian Legion, Chicago Aftershock, Omaha Vicious are utilizing S2 paintball gear. As a retired member of pro team LA Infamous, Prum understands what players require from their gear. All of the S2 Function products showcased below have been designed around years of playing with gear that works and gear that needs improvement. S2 Function has made it their mission to release products that perform.
ProPaintball: Eric, tell us what we should be looking for in the new paintball gear from S2 Function.
Eric @ S2 Function: We have a ton of new gear coming out at the PSP 2011 Chicago Open. I will start from the top and break it down piece by piece.
S2 Practice Jersey: A true cotton long sleeve, with integrated functional parts…elbow padding, gauntlets and silicone shoulder reinforcement. We took the bare essentials of a high end functional jersey and have paired it with a heavy duty cotton jersey, in order to create an affordable and unique option for every weekend play.
Full Wrist to elbow padding, Dual Diamond stitching
Silicone piping on both shoulders
Custom Screen printing available for teams
Heavy Duty Cotton jersey, LTD color runs throughout the season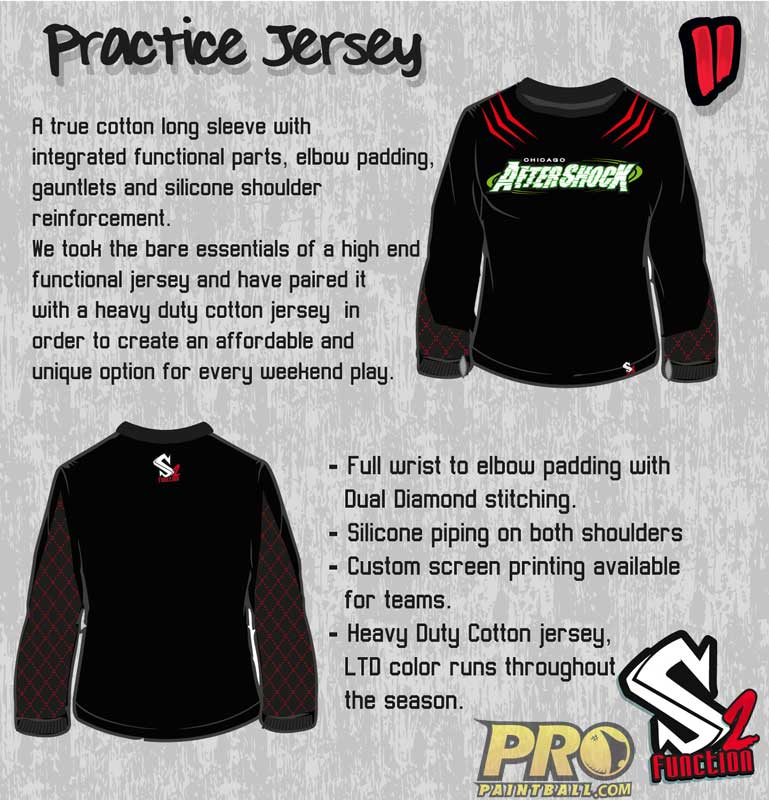 S2 Wrister: S2's wrist wrap and half glove, a true blend of form and function. True fit, durable construction, blends neoprene and kevlar for the ultimate in flexibility and protection. Your palms will thank you.
Kevlar reinforced palms, gel padding, neoprene construction
3D piping
Fully Adjustable wrist straps, won't slip or shift during play.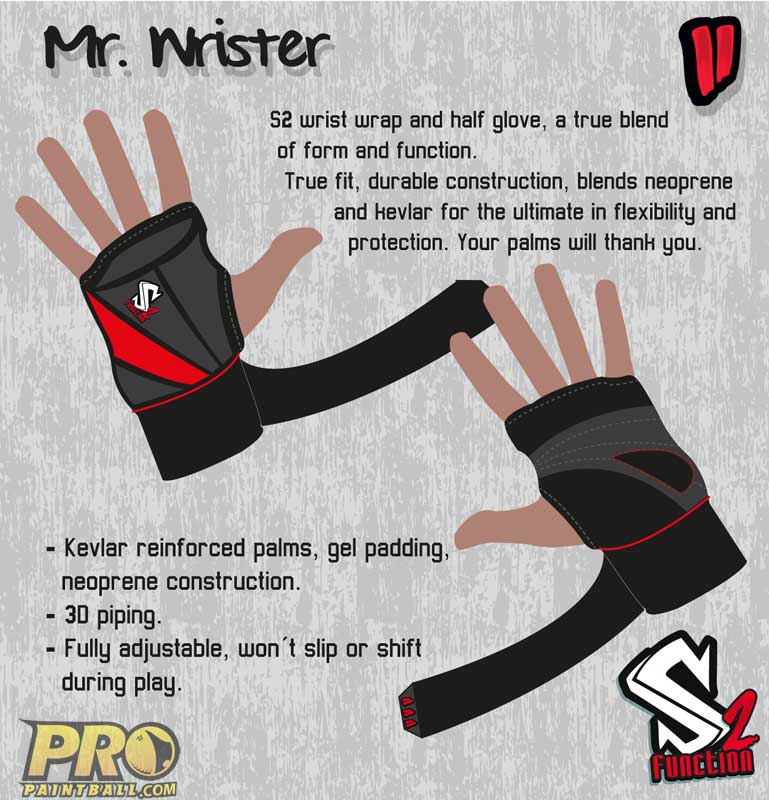 S2 Weekend Warrior Ruck Sack: This is the ultimate in function and value. We have developed a paintball minded ruck sack for the every weekend player. This is large capacity bag for the weekly paintball lifer, meant for the weekly grind of paintball.
Heavy Duty, dual density material (machine washable)… Toss it in the wash with your paintball stuff each and every weekend
Reinforced Nylon Stitching
Secondary Internal bag (for Goggles or Cleats)
Reinforced Padded Strap (micro fiber inseam)
Sublimated print (Won't Fade)
S2 Compression Sock: Runway This is a performance minded athletic compression sock, specifically designed by and for paintball players. Available in 2 Styles Features include:
Coolmax fibers to wick away moisture
Cushioned ankle support
Compression sock increases circulation, boosting oxygen flow, on field performance. The increased blood flow in turn reduces muscle soreness after a long day on the field.
Reinforced collar (so that it doesn't shift with sliding, pad movement)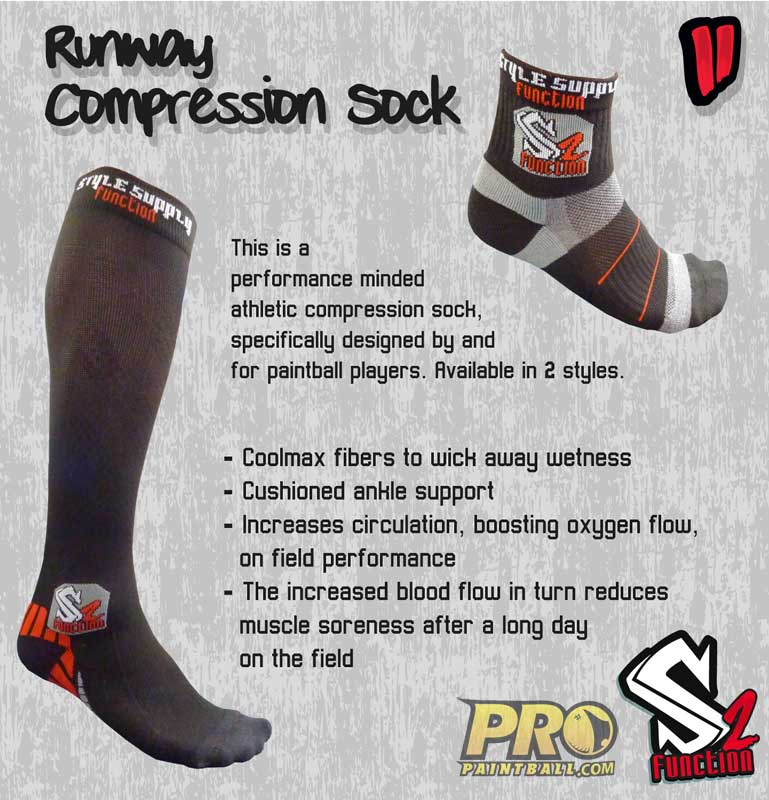 S2 Dome Sanctuaries: Beanies that combine form, function and style. Our beanies integrate the latest in athletic and outdoor fabrics with flex fit technology.
Icebox: Coolmax beanie, flexfit function so it doesn't shift on your dome while moving goggles up down around. Protects your skull while simultaneously cooling it.
Therma: This is a thinsulate beanie, made of a 3m synthetic fiber, with thermal insulation, wicks away moisture, for all weather performance. Keeps the stains away and protects your dome. Retains thermal quality even in damp conditions.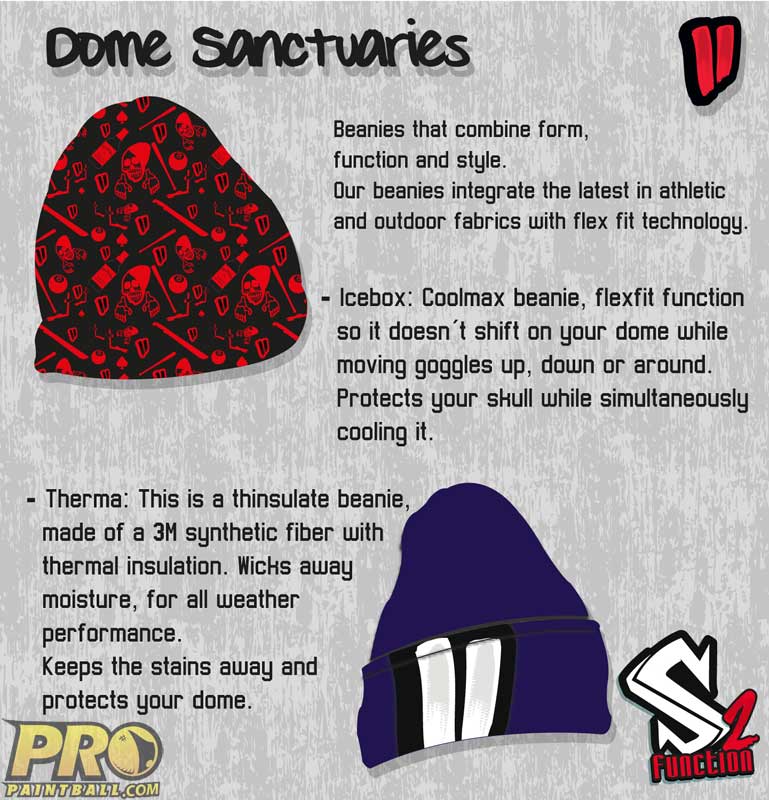 ProPaintball: Thanks for sharing Eric! The new S2 Function line looks great and we can't wait to check out the new gear in person.
Eric@S2 Function: Thank you ProPaintball! We have put a ton of time and energy into our products and it definitely shows. On behalf of S2 Function I would like to invite everyone to come check out the gear in the Style Supply booth at this weekends PSP Chicago Open. Like S2 Style Supply on Facebook.