Based on the latest photos from Extravaganza, Tippmann Sports has been busy developing new paintball gear. Three new products have just been unveiled.
Tippmann Cross Over Paintball Gun: A new light weight, high performance electro-pneumatic marker
Tippmann FT-12 Rental Gun: a redesigned paintball gun built with Field Owners in mind. Can be serviced in less than 60 seconds without tools.
Tippmann Valor Goggle: a new goggle featuring a toroidal lense and quick release lense system.
Check out these photos and product specs below;
Tippmann "Cross Over" paintball gun features:
New, compact design with a total weight of less than 2.5 lbs.
Integrated break beam anti-chop eyes
Tournament lock switch
Low pressure operation under 300 PSI
Internal gasline
Bottom regulator with the ability to convert to a front regulator
Adjustable clamping feedneck with vertical feed
Magnetic hall effect trigger switch
Multiple adjustable firing modes, including: semi-auto; auto-response; 3-shot burst; PSP;NPPL; and Millennium
Ability to work in both electronic and mechanical modes
Machine-milled upper body
Available Spring 2012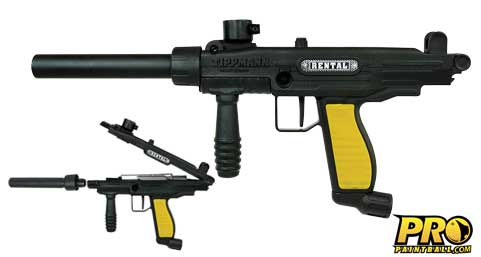 Tippmann FT-12 Rental Gun features:
An easy-to-remove modular trigger assembly that is designed to help reduce pin wear
A top non-cycling A-5 style cocking handle with built-in cover to keep dirt and debris out of the marker
A new lockdown feedneck, which keeps moisture from entering the breech
A 1.5 inch blade trigger with a short pull for faster firing and a more responsive feel
An 8.5 inch high-performance barrel for greater accuracy
A built-in sight and offset feedneck for easier targeting
An internal gas-line, offering an enhanced look while minimizing the potential for gasline damage
A recessed safety, which is easier for first-time time players to engage
A riveted-on nameplate
An ergonomic grip for enhanced comfort
Yellow grip cheeks for quick visual identification
Notes on the Tippmann Valor Paintball Goggle:
"As part of the company's ongoing effort to enhance paintball play, Tippmann Sports is proud to introduce its new Valor goggle. The redesigned goggle was developed around three key performance upgrades – improved visual clarity, greater coverage, and enhanced comfort. The most notable feature is the high performance toroidal scratch and fog resistant lens and quick release system. The toroidal lens focuses more light directly onto the eye to provide better clarity in a variety of light conditions, while the quick release system allows for fast and easy lens removal and attachment.

Other features incorporated into Tippmann's new goggle design, include: extended coverage to protect the chin, jaw and ear; additional ventilation to optimize airflow and reduce fogging; a premium woven strap for ultimate comfort and fit; an adjustable, fitted visor; and the use of compression-molded comfort foam wherever the goggle touches the face. On the rental version, the foam will be incredibly easy to replace, so field owners can simply switch out the foam insert instead of replacing the entire goggle.

The goggle will come in several versions, including: black, U.S. Army camo, Tippmann camo, and a rental version – all sold under the Tippmann and U.S. Army Paintball brands. In addition, this newly-designed goggle will also soon be available in all Tippmann and U.S. Army Paintball PowerPacks, providing a better performing goggle to those players purchasing kits."

Price: $24.95 for Black, & 39.95 for Camo.
What are your thoughts?