Our friends at Exalt Paintball have unveiled a piece of new paintball gear that is sure to be a hit. The new Exalt Regulator Grip is designed to provide improved grip in all playing environments and keep your paintball gun looking fresh.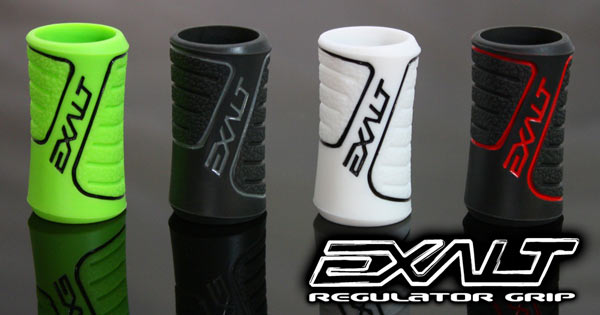 MSRP & MAP $10.00
– Better grip resulting in better accuracy.
– Designed to provide grip even when wet, muddy or oily from paint.
– Unidirectional design provides orientation recognition when switching hands.
– Premium material will not stain and does not damage, mark or leave any residue on the regulator.
– Multiple colors available to best match your marker.
Fits Most Inline Regulators Including:
– Planet Eclipse Ego
– Planet Eclipse Geo
– Planet Eclipse ETEK
– Bob Long Victory
– Bob Long G6R
– WDP Angel
– DP Fusion FX
– DP G3,G4
– Macdev Droid
– Macdev Clone
– Macdev Cyborg RX
– Vanguard Demon
– Custom Products Inline Regulator
+ More