Following on the heals of the announcement of new paintball gear for 2012 and the Empire Sniper paintball gun, Empire Paintball has announced the release of another highly sought after paintball product. Today's announcement focuses in on the rumored oled forgrip upgrade for the Empire AXE paintball gun.
The Empire Redline fore grip and OLED board has been in testing throughout the 2011 paintball season by pro paintball teams Sacramento XSV, LA Infamous, Chicago Legend and Vancouver Vendetta. ProPaintball's favorite feature of the new Redline foregrip: the special joy stick controller for the OLED board that makes customizing your settings a breeze. Hat tip to Empire product developer Jamie Ezell — great work!
This Redline pro grip is designed to fit on both Invert Mini and Empire AXE paintball guns. ProPaintball staff members had a chance to check out the Redline pro grip earlier this year and were very impressed with the functionality and ease of use.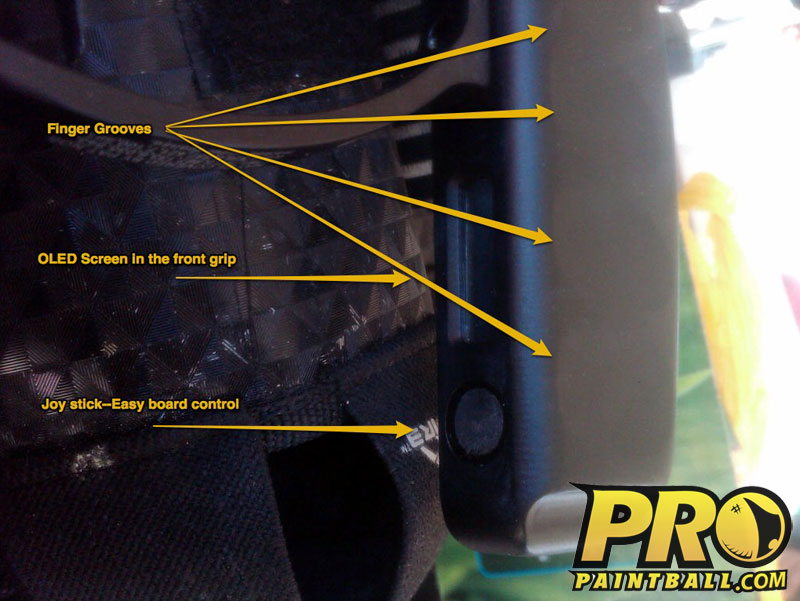 Official Empire Redline Feature list:
Joystick Interface
Utilizes Nano-Watt Technology
Extremely Low Power Management
Up to 16 Million Operations per Second
Interrupt based Processes for Fastest Response
Tournament tested by XSV, Infamous, Legend and Vendetta
Fits Axe and Mini markers
Retail price is rumored to be approximately $220.00.
Empire AXE and Mini owners, what do you think of the Empire Redline Pro Grip?