Empire Paintball took full advantage of Washington, D.C.'s Paintball Extravaganza trade-show to unveil a whole slew of new paintball gear. Earlier this morning, they took the wraps off the long awaited Empire Vanquish high-end paintball marker. Here's a shot of the Empire Vanquish finished in a "burnt orange" colorway: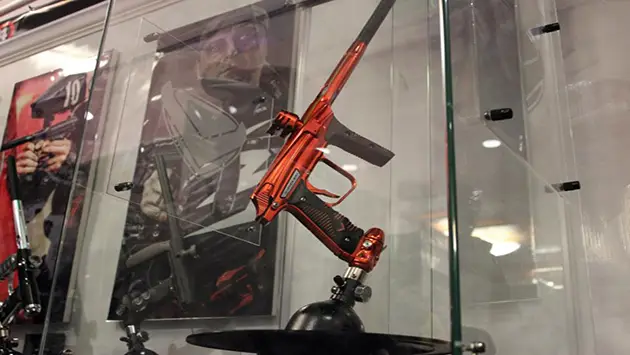 Think it's unanimously agreed that its fresh. Is it $1,500 (MSRP) fresh though? You decide. First take a look at the hype video's Empire and LA Infamous put out to coincide with the gun's release. Those are guaranteed to get you stoked on it. Then take a look at the features and see what the marker has to offer "by the numbers" in Hardware and Software specs.
[youtube]https://www.youtube.com/watch?v=wNYdSwry3uM&feature=player_embedded[/youtube]
[youtube]https://www.youtube.com/watch?v=yjU3z9MqfuU&feature=player_embedded[/youtube]
Product information: 
HARDWARE FEATURES
Pressure Balanced Spool Valve Firing Engine
Temperature Compensated Precision Pressure Sensor for Onscreen Pressure Readout- No External Gauge Needed
Spring Assisted Bolt is Soft on Paint
Carbon Fiber Super Freak Barrel Kit with Five Inserts
Widescreen OLED Display with Super Bright 2000:1 Contrast Ratio
5-way Joystick Navigation Control
Blue Laser Breech Sensor System
Push Button Bolt Removal with Hinged Frame for ultra quick maintenance
4-way Adjustable Dual-Bearing Trigger with Low force Trigger Switch
All adjustments and Maintenance requires only the 3/32" hex wrench
Nano Watt XLP Flash microcontroller performing up to 16 MIPS (million instructions per second) provides highly accurate timing while not eating your battery
2.7KHz Beeper to provide audio feedback
SOFTWARE FEATURES
"Slick Assistant" lubricant monitoring system alerts you when you need to lube you gun.
4/C Eye compatible out of the box
Marker to PC enabled out of the box with no special accessories needed.  Upgrade firmware, change settings, and make custom boot screens with the included PC software
RF Upgradeable for seamless marker to loader communication
Interrupt based firmware gives an ultra responsive feel when firing.  Virtually no lag time between trigger pull and response time
Super intuitive menu system that makes changing setting quick and easy
3 Customizable User Configurations to quickly and easy switch style of play in seconds
Training mode with Beeper feedback for users to practice their trigger speed without need for air and paintballs.
User adjustable Anti-Bolt Stick settings makes first shot drop off a thing of the past
Preset tournament firing modes to keep you legal at any major tournament series
Customizable ramping and full-auto modes to max out your markers performance
Resettable shot counter
Calculated Average and Peak ROF's achieved displayed on screen.
BAM. Lots of tasty features and crispy capabilities, no doubt about it. Now we arrive at the discussion that can't be avoided. Is it more than a clone of the Luxe? How will its on-field performance stack up next to THE premier "luxury" marker? Is the gun feel, consistency in cycle, and functional reliability all there? Did Empire R&D take a bite off "the little guy's" mom-and-pop masterpiece to make their giant?
Does the release of this marker signal the.. vanquishing.. of the Axe Pro from the professional on-field landscape at PSP events? What [inevitable] signature team model are you most psyched for? Any gun-whore's already have their cash stacked and ready to throw towards getting the gun?