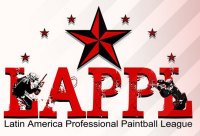 Just last month Brian Gigliotti and Billy Bernacchia of the New England Hurricanes went to Peru to compete in the Latin America Professional Paintball League. They played along side Team Peru Paintball and managed to take home the 1st Place Trophy. Billy had some comments about the event:
Lots of fun an talent down there. Alot of teams are trying to get American players to help them out. Bart Blonski (Russian Legion) now Bullets was also guesting/coaching a team helping them out a great amount. So I expect to see more American pro's next event. Thanks to Planet Eclipse for sending us to Rep. you. Jeff, Mike and PJ for putting it all together and Peru Paintball for having us. We had a great time and met lots of new people.
Not too long ago we saw the Ironmen take 1st Place when they made their way to Iran to compete in the PALM Kish Island event. Now that DYE is not the only representative sending their players abroad, perhaps we will be seeing much more of this in the future?