ProPaintball received the following news alert from the National College Paintball Association. On behalf of everyone at ProPaintball, I would like to congratulate all of the teams that competed in the High School Regional Championship events. Great job guys!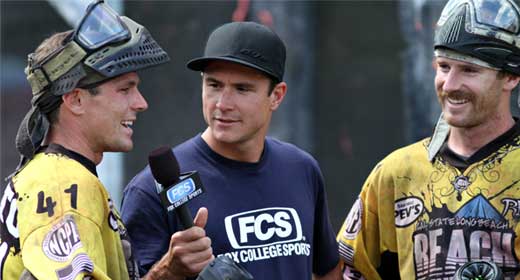 –NCPA News Release
The National Collegiate Paintball Association staged 8 High School Paintball Regional Championship events across the country this March. Each Regional Champion has been awarded free paint and entry to the NCPA High School Paintball National Championship presented by Empire Paintball and DYE Precision, to be held April 16th at Central Florida Paintball in Lakeland, Florida. In addition to the free entry and paint, the NCPA is also providing each regional champion team with a cash travel reimbursement of up to $1,500 to cover each team's costs to travel to the National Championship tournament.
There is still time for your team to compete for the National Championship! The High School Paintball National Championship is open to any team of players who attend the same high school, including Junior High, privately schooled and home schooled students who would attend the same public high school. Your team does not need any official recognition from your high school to compete, and teams can enter directly into the National Championship tournament without competing in previous events.
The High School National Championship is a 3-man Tactical RaceTo-2 tournament designed to maximize fun while highlighting each team's communication, movement and accuracy skills and keeping participation affordable. The entry fee even includes all the paint you will need to compete! Each team plays a series of RaceTo-2 matchups where theteam starts each point with up to 600 paintballs to distribute amongst their players.
Can't make this year's National Championship? Start your high school team now and compete in the 2011-2012 season, with local high school events near you starting in late August, 2011. Top teams at local events win entry intothe Regional Championships, and Regional Championship winners win a free trip to the High School Paintball National Championship on April 14, 2012. Don't forget to watch all three days of the free, live NCPA National Championship webcast on Fox Broadband. Check out www.ncpapaintball.com for more info.
The NCPA would like to congratulate the 8 teams who won their respective Regional Championship events:
Northeast Region at Boston Paintball: Hanover High School Indians, Hanover, M
Mid-Atlantic Region at Skyline Paintball: Paintball Club from Webster County High School, Webster Springs, WV
Florida Region at Central Florida Paintball: Raiders from St. Thomas Aquinas High School, Ft. Lauderdale, FL
Midwest Region at CPX Sports: Grayslake North High School Knights, Grayslake, IL
South Region at Twisted Paintball: Klein High School, Klein, TX
Southwest Region at SC Village: Bishop Amat Memorial High School, La Puente, CA
West Region at Capital Edge Paintball: Gilroy Early College Academy, Gilroy, CA
Northwest Region at Doodlebug Sports: Seattle HotBreadz from Stanwood High School, Stanwood, WA
The National Collegiate Paintball Association is a non-profit, volunteer-run organization that promotes paintballparticipation at colleges and high schools around the country. The NCPA College and High School Paintball League is thesecond largest paintball league in the United States and sanctions over 50 events nationally each year.
The NCPA is also a leader in paintball broadcasting, now televising the NCPA National Championship for the seventh year in a row. Visit www.ncpapaintball.com for more information, and check out the NCPA National Championships on Fox Broadband, Fox College Sports, Fox Sports Net, and Hulu.com.
–End NCPA News Release