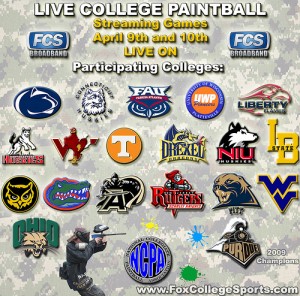 This weekend the NCPA College paintball Association is hosting the 2010 Collegiate Paintball Championships. Fox College Sports will be on location throughout the weekend filming the college paintball teams battling it out for the championship title. Best of all, Fox College Sports will be broadcasting the event on nationwide television. Thats right folks, paintball is back on television!
There are countless big name universities competing in the College Paintball Championships this weekend. Be sure to check out the LIVE webcast, hosted by Fox College Sports, on April 9th and 10th showcasing the action at Central Florida Paintball in Lakeland, FL.
Be sure to show your support for paintball on television AND your favorite college by voting in the Fox College Sports paintball poll, here.