After Mike Hinman announced that his pro paintball team San Diego Aftermath would be merging with Travis Lemanski's Los Angeles Infamous for the 2010 season, we anticipated that LA Infamous would be the new super team on the paintball circuit. However, recent rumors and paintball news updates indicate that the Infamous roster is filling up and there may not be room for all of the young talent on Aftermath. With Mike refocusing his efforts on developing a new semi-pro squad, we felt it was only a matter of time before he announced which of his former players would be filling the two pro paintball spots on his team.
Earlier this week word came through the chatbox that pro paintball players Steven Pitts and Alex "Mouse" Goldman had returned to the Aftermath program. After news that pro paintball's Nicky Cuba and Jon Richardson had joined LA Infamous following their release from the pro paintball team L.A. Ironmen, it was clear that the Infamous house was more than over flowing. Alex and Steven decided to make the move back to S.D. Aftermath  for the 2010 season to assist the new team in the direction of the Pro paintball ranks.
We caught up with Alex to see what he had to say
Mike first picked me up in 2005 when I was running around S.C. Village with no direction. Since that time he has paved the way for me to accomplish the things I've done thus far. I love this team and it's my time to give back; we're in it to win it!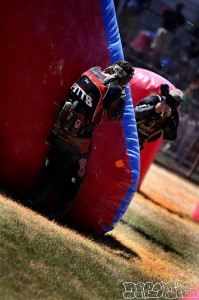 When we got in touch with Steven, he added:
San Diego Aftermath is the place I've called home for the past 4 years. Mike has done everything in his power for us and now I finally get a chance to give back and take the team pro again. I've watched the guys on the team progress so much there's no doubt we're going to win tournaments this year.
Be sure to watch out for Steven, Alex and San Diego Aftermath this 2010 season!
Photocredit: Drew Templeton of Grind Online Paintball Magazine