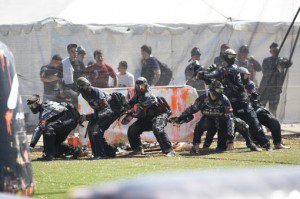 This week in paintball news we learn that Hamen Chapman's contract was not renewed with the Russian Legion. For 2009, Chapman will be playing with Palm Beach Vipers.
Speaking of the Russian Legion, the team currently has 16 players on their 09 roster. From what we understand the team plans to take no more than 8 players to the Phoenix event. Rumor has it that the remaining 8 will compete D-1 USPL in Huntington Beach.
Sources report the Draxxus sponsorships have been finalized and the word is that Edmonton Impact won't be receiving paint from ProCaps this time around. Rumors suggest the team will be shooting the XO brand of paint instead.
Reports have surfaced that 2 USPL "Pro" teams may not have the funds available to compete. The league may see a retraction from 16 to 14 teams before the HB event.
Dave Youngblood will be traveling with the Ironmen to the Palm's tournament series. Word has it DYE Asia will be accompanying him on the trip. New market development?