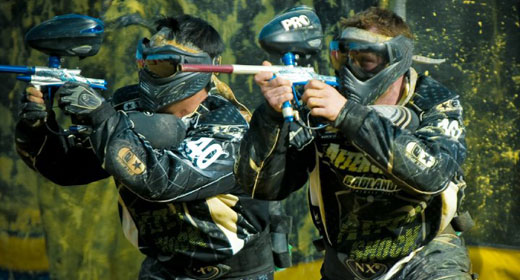 Today's paintball news round up features the latest paintball news and gossip from Dynasty, XSV, Impact, Ironmen, Hollywood HK, Empire Paintball, JT Sports, Stiffi, and a note on MTV Real World.
Impact continues to add talent to their all star squad. Former Philadelphia All American player Chad George has officially parted ways with Dynasty and joins Impact. Impact also picks up former All-American coach Jason Trosen. Release via Eclipse Blog.
The Los Angeles Ironmen held practice over the weekend. Rumors indicate that Ollie Lang was playing with the team but Pro Paintball insiders tell us no contract has been signed or renewed yet.
Derder releases a new Raza Promo video entitled Razaflauge. Schweeezyyy.
The Hostile Kids found themselves featured in the new MTV real world trailer. Seven seconds into the video pause and look at the top right corner video box — Marcus Nielsen and Bear Degidio.
Rumors are circulating that Stiffi the carbon fiber barrel company is making a come back. Two years ago the company was put up for sale and not much has been heard since. Greg "Red" Hastings is said to be sponsored by the new company.