The Millennium Paintball Series has released a preliminary schedule for the 2012 paintball season. Read on for the official announcement, dates and locations for 2012 paintball league play.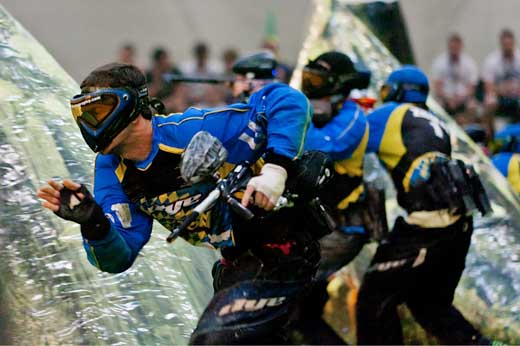 The Millennium Series is pleased to announce its preliminary schedule for 2012. Although we are waiting on some contractual completion in order to confirm some details, we are confident that we can release the following schedule to you so as to facilitate early planning for all:
2012 Millennium Paintball Series Event Calendar (as of 19.11.2011)

March 23rd, 24th, 25th – The Millennium French Riviera Cup (St. Tropez-Cannes), France
May 25th, 26th, 27th – Bitburg, Germany
June 29th, 30th, July 1st – London, UK
October 12th, 13th, 14th – Millennium World Cup hosted at Disney Paris, France

The Millennium, as in 2011, will keep the Series to 4 events as we feel the prevailing economic situation in Europe does not warrant a return to 5 events next year. We will re-evaluate the situation once more at the end of the 2012 season.

Following a very successful 2011 Series which saw attendance grow against a backdrop of economic turmoil, The Millennium Series is determined to continue this trend throughout 2012 and to work closely with teams and traders to promote paintball and to encourage the sport and industry further still.

In 2012 we will introduce another new and exciting location and venue and following on from the 2011 success, will (in collaboration with the EPBF) once again give national teams the opportunity to compete for their country in EPBF International Cup competitions. Further information will be available in the coming weeks via The Millennium, EPBF and your National Federations.

As with the last couple of years we have been very careful when choosing venues to ensure the best possible value for teams, trying to keep additional costs to a minimum. Although this year we have spread slightly further afield with the addition of "The French Riviera", there will be superb and very reasonably priced accommodation for all available, (details to follow shortly), making this a very cost effective event to attend with an atmosphere second to none. This event promises to be an all time classic.

In order to fine tune and improve the playing experience at Millennium events, we will shortly be sending out a questionnaire to all teams participating in 2011 to gain a good understanding of our customer needs and requirements and act on them accordingly.

We look forward to welcoming you to the 2012 Series! Further event information, including 2012 entry fees for open divisions will be available shortly.
The announcement of the 2012 Millennium Series dates is very helpful for teams and players that are looking to plan ahead for next year. The mention that the league intends to stay with 4 events in light of economic uncertainty is interesting as it is counter to what several of the United States based leagues are doing.
What do you think of the move to stay with 4 events for the 2012 paintball season? Do you think the Millennium Series made a wise move?