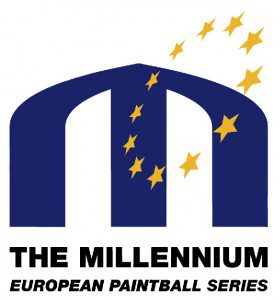 This weekend across the pond in Bitburg, Germany the Millennium's MAXS European Masters (Event #2) is taking place. ProPaintball's very own Nima Razavi was able to keep a close eye on all of the scores as they came across. Click on to see all of the game scores from each Group.
Group A:
Lisbon Benfica 5-3 Chilli Peppers Riga
Oslo Menace 5-1 Copenhagen Ducks
Chilli Peppers Riga 5-1 Oslo Menace
Lisbon Benifa 5-2 Copenhagen Ducks
Chilli Peppers Riga 5-3 Copenhagen Ducks
Oslo Menace 5-1 Lisbon Benfica
Chilli Peppers Riga and Oslo Menace made it to Sunday.
Group B:
Frankfurt Syndicate 4-3 SK Moscow
Joy Division 5-4 Offenbach Comin At Ya
SK Moscow 5-1 Offenbach Comin At Ya
Frankfurt Syndicate 5-4 Joy Stockholm
SK Moscow 5-0 Joy Stockholm
Frankfurt Syndicate 5-2 Offenbach Comin At Ya
Frankfurt Syndicate and SK Moscow made it to Sunday.
Group C:
London Nexus 5-1 Toulouse Dagnir Dae
Toulouse Tontons 5-4 Marseille Icon
Toulouse Tontons 4-3 Toulouse Dagnir Dae
London Nexus 5-3 Marseille Icon
Toulouse Tontons 5-1 London Nexus
Marseille Icon 5-3 Toulouse Dagnir Dae
Toulouse Tontons and London Nexus made it to Sunday.
Group D:
Dynasty Impact 5-4 Budapest Bullets
Ramstein Instinct 5-3 London Shock
London Shock 5-3 Budapest Bullets
Dynasty Impact 5-3 Ramstein Instinct
Ramstein Instinct 5-3 Budapest Bullets
San Diego Dynasty Impact 5-1 London Shock
San Diego Dynasty Impact and Ramstein Instinct made it to Sunday.Sunday Quarter Finals:
Game 1: Chilli Peppers Riga vs. Ramstein Instinct
Game 2: Frankfurt Syndicate vs. London Nexus
Game 3: Toulouse Tontons vs. SK Moscow
Game 4: San Diego Dynasty Impact vs. Oslo Menace
Semi Finals:
Team A- Winner of of Game 1 vs. Winner of Game 3
Team B- Winner of of Game 2 vs. Winner of Game 4
The Los Angeles Ironmen's Brandon Short is playing for the Toulouse Tonton's and Zack Wake (LA Infamous) is playing with London Shock in this tournament.