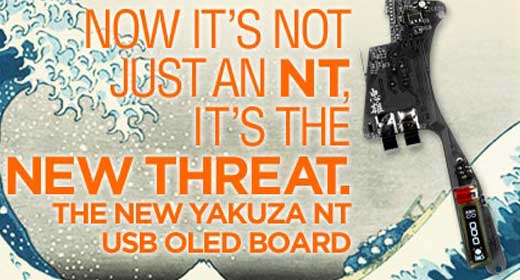 At some point in training, every warrior crosses a threshold that transforms him from a simple man into a fighting mechanism. Every thought, movement and action is made with one purpose… to WIN!
Introducing the new Yakuza Series Mikko Huttunen USB OLED NT board from Tadao. It is designed to transform your NT into the machine you will need in your hands to win every point, and every game. With  this new board, you are not just carrying an NT, you are wielding the New Threat.
The boards include both the OLED display as found on other Yakuza Series boards, and an RGB LED, which shines out the top light pipe of the stock NT grips. Since the NT grips are easily removable, the display is meant primarily to be used for changing settings, while the RGB LED gives you breech and mode status during play. If users wish, they can modify their grips to make the OLED display visible all the time. All the latest Yakuza firmware updates come standard, including select fire functionality, zero power drain while off circuitry, and rate of fire and firemode settings compatible with every major tournament league.  Full details, the feature listing, and manual can be found on the Yakuza USB OLED NT page.
Create your own destiny with the newly released Mikko Huttunen Yakuza USB OLED NT board from Tadao Technologies, available now atwww.tadaotechnologies.com.