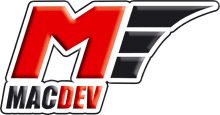 Yesterdays article that Michael Whybrew of Paintball Assassin tried unsuccessfully to register the trademark Macdev in Australia seemed to stirred up a hornets nest. The story was syndicated across the net and copied over on several bulletin boards as readers discussed the significance of the documents. 
We've received the following statement from Macdev;
Over recent months, it has come to our attention that some of our major trademarks have not been adequately protected here in Australia. An unscrupulous individual has attempted to take ownership of major MacDevmarks and intellectual property including the major MacDev brand, and the non profit players league AXL. As a result of these attacks upon our company, Australian trademark authorities have forced the offending individual to remove all trademark applications or holdings relating to MacDev under grounds of intent to deceive customers and non commercial usage. MacDev lawyers were able to secure legal decisions in our favor in every instance, and as a result of these attacks, the MacDev trademark portfolio is now significantly stronger than ever."
Update: Reader John R. found has been following a heated conversation between Michael Whybrew (PB Assassin) & James Grundy (MacDev) on BillsPaintball.com, an Australian paintball bulletin board.  
We have extended the opportunity to Michael Whybrew to issue a statement and expect to update the story shortly. Stay posted folks, this is getting interesting.