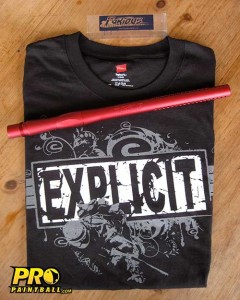 A few weeks back Rob Montiero from pro paintball team SF Explicit emailed in asking for a mailing address and we were all sorta curious as to what he was up to. When an unexpected package showed up in today's mail you can only imagine our excitement — we had to see what was inside and quick! After ripping open the package we realized that not only was there a fresh Explicit paintball t-shirt but sitting alongside was a brand new 14″ Furious Lotus barrel, all courtesy of Rob and his teammates on San Francisco Explicit.
We've been wanting to get our hands on one of the Furious barrels for awhile and now that we have one its time to put it to the test!
Special thanks to Rob Montiero and his teammates on San Francisco Explicit for the free paintball gear. You guys are awesome!