Living Legends 5, the premier scenario paintball event, is preparing for another record setting scenario event. This years theme is known as the Dark Age. Two factions, one known as the "New Empire" and the other as the "Horde" will battle it out in a post-electromagnetic pulse themed event.
On May 18th to 20th, players from across the world will converge at CPX Sports in Joliet, IL to battle for bragging rights and tons of great prizes. After each event we find it interesting to check out the Living Legends game photographs. Many of these scenario paintball players are shooting tricked out Tippmann paintball guns. Some players are running off the shelf Tippman markers, and others are running custom rigs with a variety of accessories. Some of the more interesting upgrade parts we have seen include rail systems, lights, optics, electronic hoppers and remote coil systems to improve game play. Here is a photograph from Gary Baum from last years Living Legends event.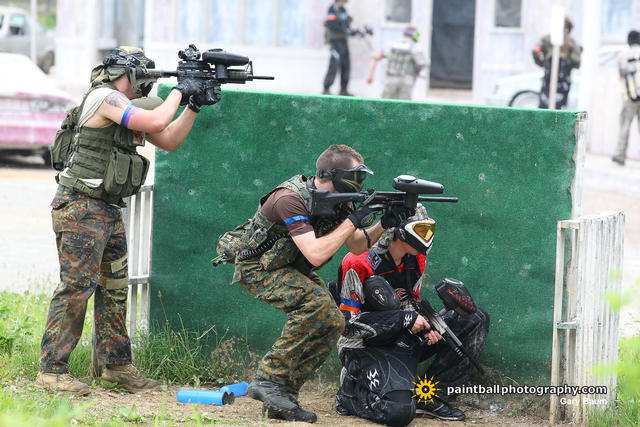 Today's scenario paintball update showcases those commanding the "New Empire" and "Horde" factions.
Press Release: Living Legends 5 Commanders Announced
CPX Sports and Viper Paintball are proud to announce the commanders for the 5th installment of the world famous Living Legends scenario paintball event being held May 18-20, 2012 at CPX Sports in Joliet, IL. Steven "Pretty Lou" Ruiz of The Reservoir Dogs will be commanding for the The New Empire as "Maximus Caesar." The Horde will be commanded by Living Legends veteran Thomas "Sniperwolf" Kerstetter of the Grassy Knoll Gunmen as "Scourge".

"These commanders were hand-picked for their notoriety, skill, and personalities. We feel that their dedication to the players and the understanding of the total concept of Living Legends will make them great leader and ensure an incredible experience for everyone participating in the event. We are grateful they accepted the invitation to command at Living Legends V and we look forward to working with them." said Kerry "Viper" Rosenberry, the producer of the event.
Press Release: Living Legends 5 XO's Announced
Thomas "Sniperwolf" Kerstetter of the Grassy Knoll Gunmen, and commander of "The Horde," has chosen Kevin "Murph" Gibson as his XO to help bring down the New Empire. Steven "Pretty Lou" Ruiz of the New Empire has chosen the legendary Chuck Norris of paintball, Dave Cilio, as his XO to help ward off the evil of the Horde.

Viper had this to say: "In my opinion both commanders have executed a 'slam dunk' with their XO selections. I interacted closely with Murph last year when Sean Scott and I co-commanded an event, and I have played alongside Dave Cilio a number of times. Both of these individuals have the focus to help them win, and have earned respect that will inspire players to follow them."

Learn more about Living Legends on our up coming website at www.livinglegendsofpaintball.com.
The Dark Age theme plays into the post-apocalyptic/end of the world genre and should prove to be a ton of fun. What are your thoughts on this years Dark Age scenario paintball theme?